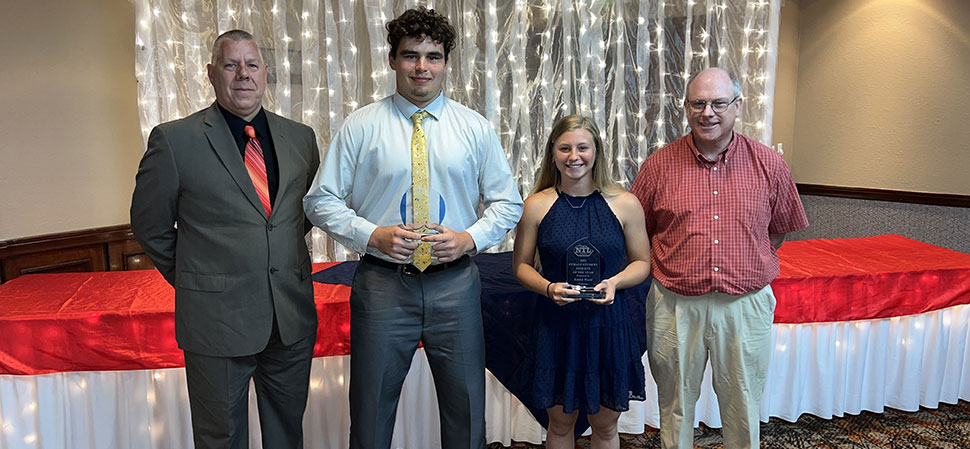 Ward, Sottolano Named NTL Student-Athletes of the Year
By: Ed Weaver | NTL Sports | May 23, 2022 | Photo courtesy Ed Weaver
Canton's Emmi Ward and Cowanesque Valley's Kade Sottolano were named the 2021-22 NTL Student-Athletes of the Year on Sunday, May 22.
The league's annual banquet returned to the Best Western Grand Victorian Inn in Sayre for the first time since the 2018-19 season.

Also honored at the banquet were Bob Rockwell, the 2021-22 NTL Coach/Program of the Year, and Jack Carr, the 2021-22 NTL Official of the Year.
Ward is the daughter of Tim and Michelle Ward and has participated in soccer and softball for 4 years. She will attend Coastal Carolina and major in Exercise Science.
Sottolano is the son of Matt and Cheryl Sottolano and has participated in football, wrestling, and baseball. He will attend Edinboro University and continue his wrestling career.
2021-22 NTL Student-Athlete of the Year Female Nominees
Athens: Hannah Walker
Canton: Emmi Ward
Cowanesque Valley: Renee Abbott
Northeast Bradford: Emily Susanj
North Penn-Mansfield: Ella Farrer
Sayre: Alexis Frisbie
Towanda: Porsche Bennett
Troy: Anneliese Getola
Wellsboro: Emma Coolidge
Williamson: Chelsea Hungerford
Wyalusing: Marissa Johnson
2021-22 NTL Student-Athlete of the Year Male Nominees
Athens: Karter Rude
Canton: Cooper Kitchen
Cowanesque Valley: Kade Sottolano
Northeast Bradford: Garrett Cooper
North Penn-Liberty: Noah Shedden
North Penn-Mansfield: Gaven Sexauer
Sayre: Brayden Horton
Towanda: Mason Hartman
Troy: Eli Crane
Wellsboro: Liam Manning
Williamson: Gabe Kaufman
Wyalusing: Grady Cobb
Congratulations to all of this year's Student-Athletes of the Year nominees.
View past NTL Student-Athlete of the Year Winners and Nominees
View past NTL Coach/Programs of the Year
View past NTL Officials of the Year