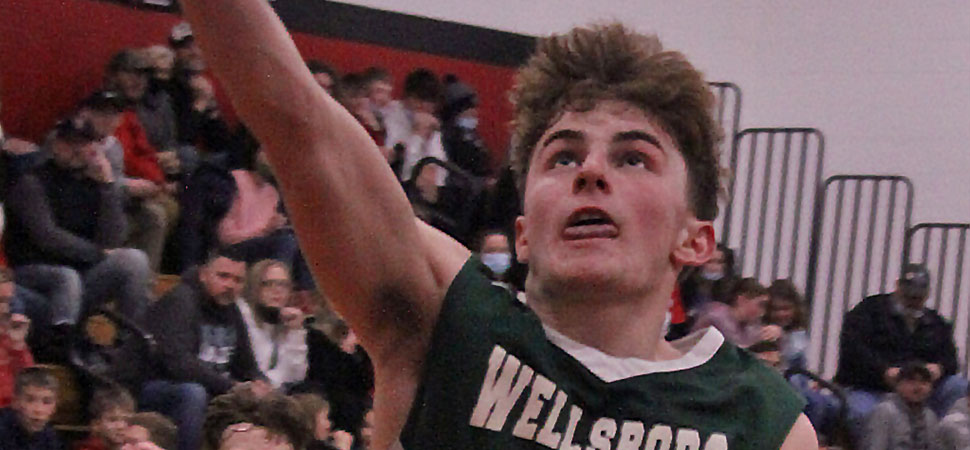 Troy uses big 2nd and 3rd quarters to down Wellsboro
By: Ed Weaver | NTL Sports | January 7, 2022 | Photo courtesy Chris Manning
Three Hornets scored in double-figures but the Varsity Boys Basketball team ended up on the losing end of a 73-52 game against NTL Large School foe Troy on Thursday, January 6.
After a close first quarter, which saw the Trojans lead 12-11, Troy did their damage over the course of the 2nd and 3rd quarters. They outscored the Hornets 47-25 during that 16 minute stretch to hold a commanding 59-36 lead heading into the 4th quarter. Wellsboro outscored Troy 16-14 in the final frame, but it was too little too late.
Senior Darryn Callahan (16), junior Conner Adams (11), and sophomore Hayes Campbell (10) led the Hornets on the night. Juniors Peyton McClure and Cameron Brought added 8 points and 7 points, respectively.
Troy senior Ty Barrett led all scorers with 20 points.
Brought grabbed 11 rebounds, Adams made 7 assists, Callahan had 7 rebounds, and Campbell had 8 rebounds and 3 steals.
Troy swept the evening winning the JV game, 54-9.
The loss was the Hornets' 1st in the Large School Division, falling to 5-2 overall (3-1). The team is back in action on Saturday as they host rival North Penn-Mansfield.