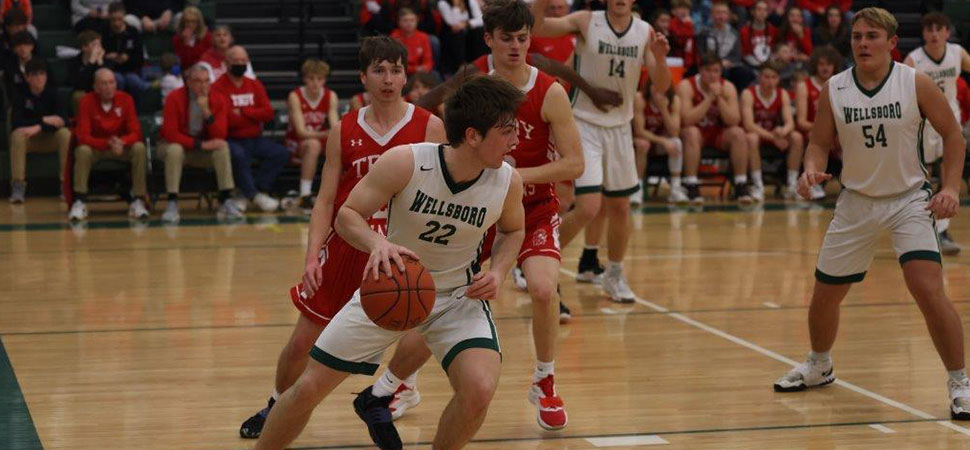 Troy outlasts Wellsboro, 56-53
By: Ed Weaver | NTL Sports | February 3, 2022 | Photo courtesy Dr. Robert Bair
35 points from Troy senior Ty Barrett propelled the Trojans to a 56-53 NTL Large School Division win over the Wellsboro Hornets on Wednesday, February 2.
The win gives Troy sole possession of the top spot in the Large School Division standings and also snaps an eight-game winning streak by Wellsboro.
Last time these two teams met Troy won convincingly, 73-52.
Despite Troy getting off to a quick 5-0 start buckets were hard to come by early on. The Trojans opened up a 9-1 lead with 4:30 remaining in the opening quarter, but would then go ice cold. The Hornets cut the lead down to 9-5 with 2:21 left and Troy would lead 9-6 after the first 8 minutes expired. Wellsboro cut the lead to 9-8 less than a minute into the second quarter on a Liam Manning basket, and would eventually take their first lead of the game at 12-11 with 2:36 left before the half on a foul-line jumper by Darryn Callahan.
Both teams would trade three-point shots and Troy would retain the lead and go up 20-16 after the first 16 minutes of play.
After the intermission the Trojans put together their best quarter of the evening, outscoring Wellsboro 23-12 and increasing their lead to 43-28. Wellsboro wouldn't go down without a fight, however, as the Green Hornets saved their best quarter for the final 8 minutes. Wellsboro cut into Troy's lead and got it down under 10 midway through the fourth and eventually got the lead to 6 at 49-43 with 3:36 to play.
The Hornets erased three more points and made it a three-point game, 49-46, with 2:17 remaining as Peyton McClure was fouled while shooting a three-pointer. McClure hit all three foul shots to make it a three point game before Manning cut the lead to 49-48 as he was sent to the line with exactly two minutes remaining.
Wellsboro would only get within a point over the final two minutes. After battling back to get the lead to 54-53, Troy's Ethan Van Noy hit a pair of foul shots to push the lead back to three. The Hornets had two chances to tie the game in the closing seconds. Both shots came up short and the Trojans held on for the three-point victory.
Barrett, the league's leading scorer, led all scorers with 35 points. Mason Imbt and Justice Chimics both chipped in 8 points apiece for Troy.
Liam Manning led the Hornets with 20 points, Conner Adams and McClure both scored 10, and Callahan finished with 8. Cameron Brought chipped in three points and Hayes Campbell added two. Manning also grabbed 8 rebounds and made 3 assists and Campbell also added 7 rebounds.
Wellsboro won the JV game 43-37 to improve to 8-6. Caden Smith had a game-high 20 points, and Ian Hoose added 11.
Troy now moves to 13-3 overall and 9-1 in the division, while the Hornets fall to 13-3 (10-2). Both teams are scheduled to play Friday evening, weather depending. Troy hosts Athens and Wellsboro travels to their rivals, North Penn-Mansfield.