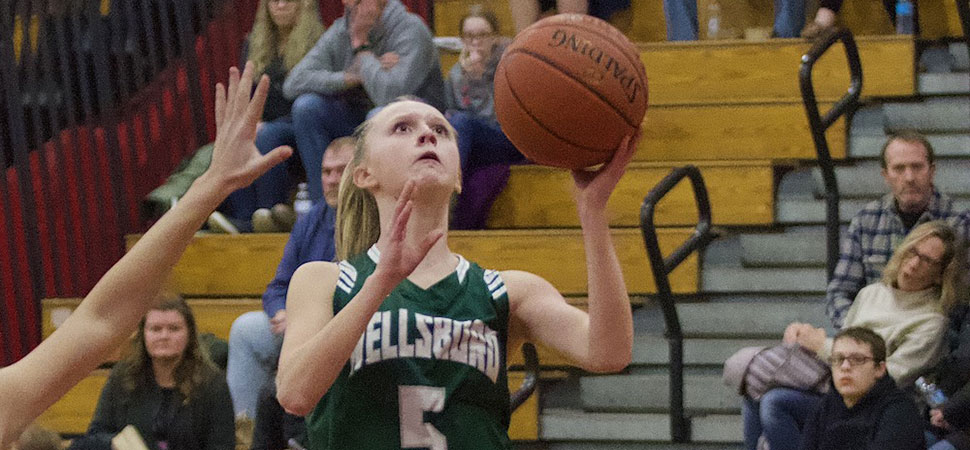 Lady Hornets knock off Troy, 35-28
By: Ed Weaver | NTL Sports | February 2, 2022 | Photo courtesy Lance Larcom/ntwsportsreport.com
The Wellsboro Varsity Girls Basketball team avenged an earlier season loss to Troy by beating them 35-28 on the road on Tuesday, February 1.
The Lady Hornets evened up their record following their win against Williamson last week and moved a game ahead of .500 with their win tonight.
"The girls pulled out a great win, in a tough environment, against quality competition," head coach John Davis said. "One of Troy's major strengths is their depth. They kept the pressure on us all game. They pulled within a point in the fourth, but our girls didn't panic and finished the night. I can't say enough about this team's effort and determination."
Wellsboro held a slim 8-6 lead after the opening quarter and extended their lead to 19-15 at the half. Troy cut the lead to three points (27-24) after the third but the Lady Hornets held Troy to just 4 points in the final quarter. Troy managed to cut the lead to three points with 30 seconds remaining when freshman Paige Logsdon hit two key foul shots to claim the victory for Wellsboro.
Logsdon led all scorers with 10 points and sophomore Maddy Mascho finished with 9. Senior Emma Coolidge had 6, senior Emma Brandenburg and freshman Chloe Brandenburg scored 4 points each, and junior Ella Posada pitched in 2.
Katie Lackey led Troy with 8 points and Sydney Taylor chipped in 7.
Troy won the JV game 23-13 to drop Wellsboro to 8-6 on the year. Junior Hailie Kerr led Wellsboro with 6 points.
The win improves Wellsboro to 8-7 and 7-4 in the NTL Large School Division standings. The team is back in action at home against Athens on Thursday, February 3.