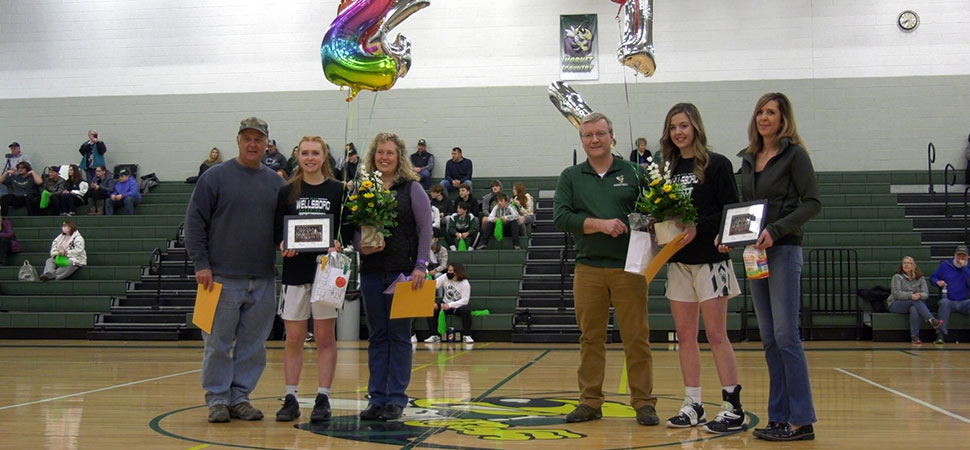 Lady Hornets edge North Penn-Mansfield on Senior Night
By: Ed Weaver | NTL Sports | February 11, 2022 | Photo courtesy The Home Page Network
On Senior Night the Wellsboro Lady Hornets held rival North Penn-Mansfield to under 20 points to win 29-18 on Thursday, February 10.
Leading by a point, 16-15, heading into the fourth quarter Wellsboro went on a 13-3 run in the final 8 minutes to go on for the 11-point win. Before that Wellsboro held a 7-3 lead after the first quarter and led 12-9 at halftime.
Freshman Paige Logsdon led all scorers on the night with 9 points, freshman Chloe Brandenburg finished with 7, senior Emma Coolidge and sophomore Maddy Mascho added 6 points each, and senior Emma Brandenburg pitched in a point.
Wellsboro head coach John Davis reflected on his two seniors following the win.
"When Emma B. told me this fall that she was playing this season, it was hard to hide my excitement," said Davis. "I knew she would make an immediate impact on the court, but more importantly, I knew her maturity and leadership were going to play a big role on this year's team. And it has! Not only has she had a consistent, positive attitude, she's also very coachable. Simply put, she's been a joy to have on the team.
"Ever since I've watched Emma from the stands her freshman and sophomore year, I knew she was going to be something special," Davis continued. "Emma has been our workhorse the last two seasons, someone you can count on not only in the points column, but rebounds, assists and steals. She pretty much can do it all. Emma is also a great defender, and she usually draws the toughest defensive assignment every game. She will certainly be missed next season."
Shaniya Sparrow led North Penn-Mansfield with 7 points.
North Penn-Mansfield started the night off with a 26-14 win in the JV game. Sophomore Emily Richardson led Wellsboro with 7 points. The Lady Tigers were led by Addison Farrer with 9 points.
The win improves the Lady Hornets' record to 9-10 (8-6 NTL Large School Division) to keep them in the playoff hunt. The girls are back in action as they travel to Wyalusing on Saturday afternoon.