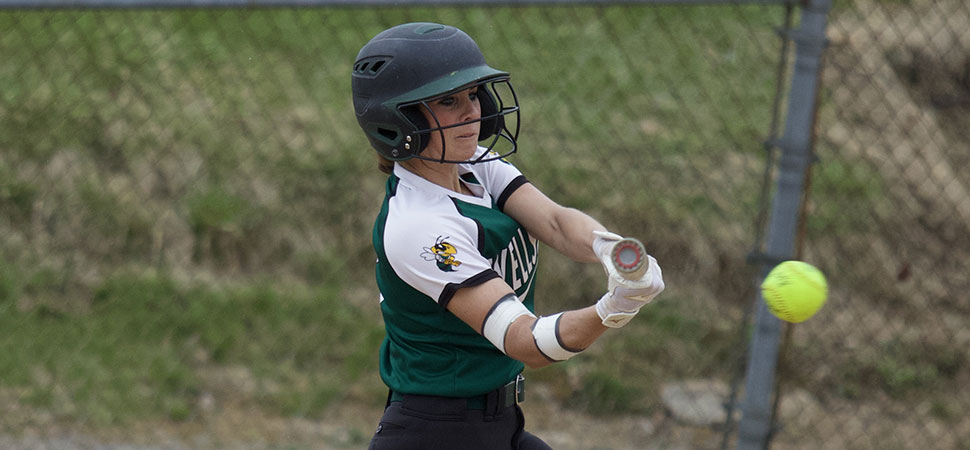 Lady Hornets 10-run Athens, 13-3
By: Ed Weaver | NTL Sports | May 4, 2022 | Photo courtesy Lance Larcom/ntwsportsreport.com
The Wellsboro Varsity Softball team won their 5th game of the season by knocking off Athens 13-3 on Tuesday, May 3.
Earlier in the season Athens beat Wellsboro 14-1.
"It was a great win tonight," 1st year head coach Hannah Smith said. "Every single person contributed from Paige's home run to Jordyn's sac bunt, everyone played their role for us to come together. It was a great win against a solid team. We are hoping to finish the season strong by playing tough defense and keeping the bats hot."
The Lady Wildcats took an early 2-0 lead in the top of the 1st but from that point on the Lady Hornets outscored Athens 13-1 to score the win. Wellsboro scored once in the 1st on a double by senior Emma Coolidge that scored freshman Alexandra Urena.
Then in the 2nd the Lady Hornets took the lead with a 4-run inning. Freshman Paige Logsdon scored on a base hit by junior Molly Ingerick to tie the game up then senior Abbye Cavanaugh stole home to put Wellsboro up 3-2. Ingerick scored one at bat later to make it a 2-run game. Junior Jordyn Abernathy scored to end the inning on a base hit by junior Rylie Boyce. Wellsboro added another run in the 3rd to make it a 4-run lead. After a lead off double by junior Madaline Bordas, Cavanaugh singled to left to score Bordas, making it 6-2.
The Lady Wildcats' final run came in the top of the 4th to cut it to 6-3. Wellsboro, however, outscored Athens 7-1 with 3 runs in the 4th and 4 in the 5th to close out the win.
Wellsboro finished with 13 hits on the afternoon, led by Logsdon and Boyce. Both went 3-for-4 at the plate. Boyce added a pair of RBIs and Logsdon drove in 4 runs. Coolidge finished 2-for-4 with an RBI, Ingerick, Cavanaugh, and sophomore Abby Owlett 1-for-3, and Bordas and Urena were 1-for-4. Boyce went the distance in the circle, scattering 4 hits with 2 walks and 3 strikeouts.
The win improves the Lady Hornets to 5-10 (3-8 NTL Large School Division). The team is back in action on Thursday, May 5 at home against Towanda. It will also be Senior Night.