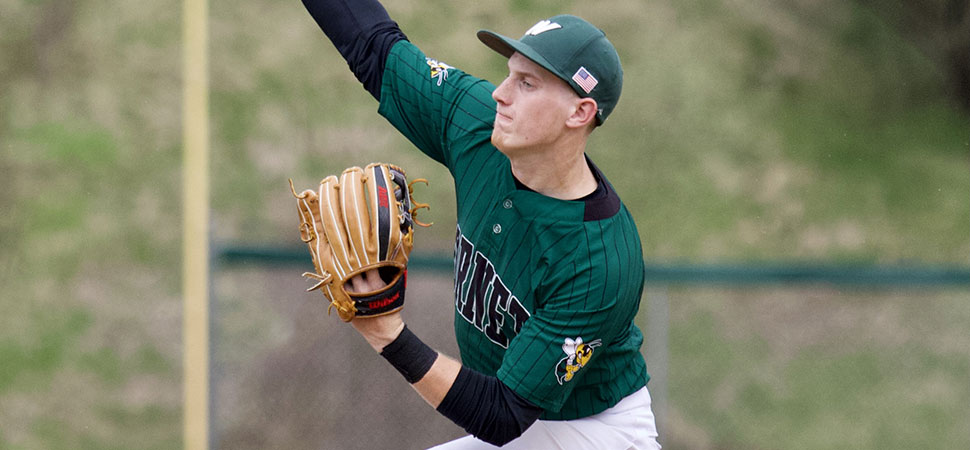 Keane throws complete game; Hornets top Wildcats, 11-4
By: Ed Weaver | NTL Sports | May 4, 2022 | Photo courtesy Lance Larcom/ntwsportsreport.com
Senior Isaac Keane threw a complete game as the Wellsboro Varsity Baseball team beat Athens 11-4 on Tuesday, May 3.
"Isaac pitched a complete game making quality pitches," head coach Steve Adams said. "Brody Morral had 7 putouts in right field and made hard plays look easy. Our outfield is the best in the NTL. I'm really proud of how our guys are approaching games."
Keane struck out one, walked 2, scattered 8 hits, and allowed 4 runs (3 earned) on 99 pitches.
After a scoreless 1st inning the Wildcats scored the game's 1st run but the Hornets tied it up after Morral led off with a base hit then later scored to tie it up. Athens added a pair of runs in the 3rd and again the Hornets matched the score with a pair of runs, by senior Darryn Callahan and junior Cameron Brought, to tie the game back up a 3-all. Athens went down in order in the 4th inning and Wellsboro took advantage of that to add to their lead in the bottom half of the inning.
Morral again led off with a base hit and fellow senior Dylan Abernathy singled to join Morral on base. Both scored to put Wellsboro up 5-3.
Athens got a run back in the top of the 6th to cut the Hornets' lead to 5-4, but Wellsboro scored six times in the bottom half of the inning to put the game away.
Morral, sophomore Caden Smith and Brought all had 3 hits on the afternoon. Morral and Smith were both 3-for-4 with an RBI, with Smith hitting a double. Brought was 3-for-3 with 2 RBIs. Callahan was 1-for-3 with a double and an RBI, junior Conner Adams was 1-for-3 with 2 RBIs, junior Blake Hamblin was 1-for-3 with an RBI, and Abernathy finished 1-for-4 with an RBI.
The win improves the Hornets' record to 9-4 overall and 9-3 in the NTL Large School Division. The team is back in action on Thursday, May 5 against Towanda.