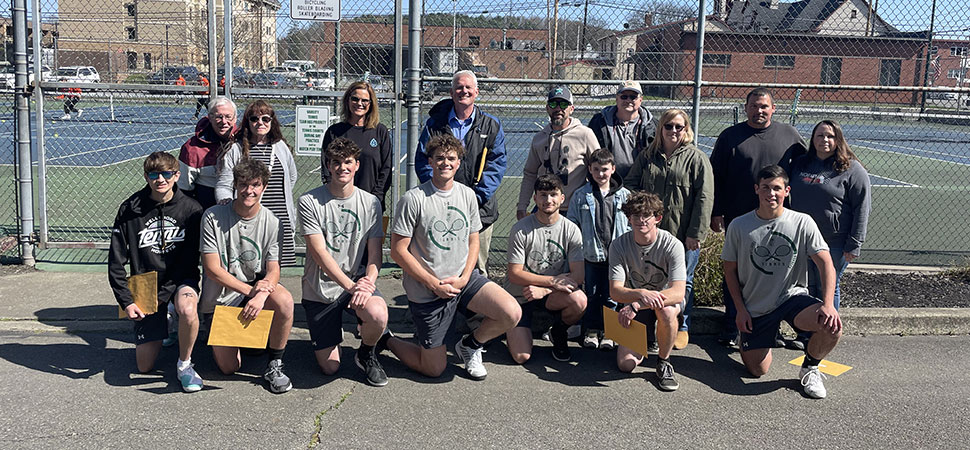 Hornets wrap up undefeated NTL season on Senior Night
By: Ed Weaver | NTL Sports | April 29, 2022 | Photo courtesy Matt Rendos
The Wellsboro Boys Tennis team wrapped up an undefeated NTL season with a 4-1 win over Towanda on Senior Night on Thursday, April 28.
"We had 5 seniors in the lineup today, and to simply say that we will miss them would be to massively understate their importance to the team," head coach Andy Borzok said. "Every single one of them is a team leader, and they have created a team culture that is second to none. I am just so fortunate that the younger players got to spend time with this group so that they can keep up the culture and expectations moving forward."
Singles Results
Joseph Doty def. Rein Alderfer 7-6 (7-3), 6-4
Liam Manning def. Dacion Yrigollen 3-6, 7-6 (8-6), 6-0
Luke Tavani def. Owen Richardson 7-5, 6-2
Doubles Results
Aiden Gehman/Hayne Webster def. Ryan O'Connor/Haven Poll 7-6 (9-7), 6-1
Drew Manning/Connor Pierce def. Vincenzo Carbo/Ethan Dillman 6-4, 6-2
The win improves the Hornets' record to 10-4 (6-0 NTL). The team is back in action later this afternoon against Galeton.