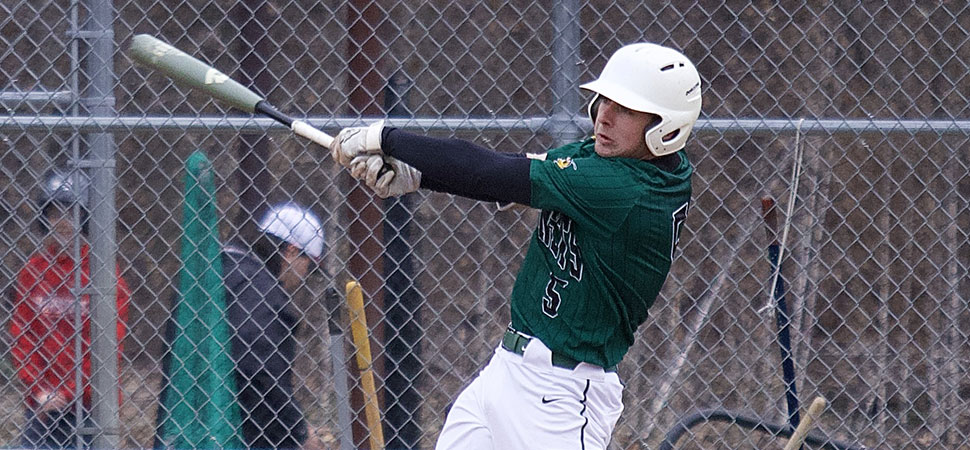 Hornets rally in 7th to edge Canton, 10-9
By: Ed Weaver | NTL Sports | March 26, 2022 | Photo courtesy Lance Larcom/ntwsportsreport.com
The Wellsboro Varsity Baseball team scored 3 runs in the top of the 7th to edge out Canton, 10-9, to start the 2022 season with a win on Friday, March 25.
"The guys never gave up and found a way to grind out the win," head coach Steve Adams said. "Scoring 3 runs in the top of the 7 showed their heart. Good win to start the season."
The Hornets jumped out to an early 5-0 lead with 3 runs in the 2nd and 2 runs in the 3rd. Senior Isaac Keane led off the 2nd with a walk and later scored on a ground ball and error by junior Blake Hamblin. Junior Cameron Brought would score in the next at bat on an error after drawing a walk after Keane. Hamblin would later score on a dropped 3rd strike during senior Dylan Abernathy's at bat.
In the 3rd sophomore Caden Smith scored as Brought grounded into a fielder's choice to make it 4-0. Brought would later score on a passed ball to put the Hornets up 5-0.
Canton got 4 of the 5 runs back that they allowed in the bottom half of the 3rd to make it a one-run game. The Hornets, however, would add 2 more runs in the 5th to pad their lead. Brought and Hamblin led off the 5th with back-to-back base hits and would later score both runs. Brought crossed home plate as senior Brody Morral reached on an error and Hamblin would score as Abernathy grounded into a fielder's choice.
Canton again would produce a 4-run inning, and this time would take their 1st lead of the afternoon at 8-7 following the bottom of the 5th. They would extend their lead to 2 runs with a run in the bottom of the 6th to make it 9-7.
In the top of the 7th Wellsboro retook the lead, and hung on for the win, with 3 runs. Hamblin singled to lead off the inning then advanced to 2nd on a Morral base hit. An Abernathy walk loaded the bases for senior Darryn Callahan. With 2 outs Callahan hit a grounder and reached on error that scored Hamblin, Morral, and Abernathy to secure the win.
Morral and Hamblin both finished 2-for-3 on the afternoon, Smith was 2-for-5, Brought and Keane were both 1-for-3, and Callahan finished 1-for-5 with 3 RBIs.
Keane started on the mound and pitched 4 innings, surrendering 8 runs (5 earned) on 4 hits with 5 strikeouts. Hamblin pitched the final 3 innings to pick up the win. He allowed 1 run on 3 hits with a strikeout.
Wellsboro starts out the season at 1-0 (1-0 NTL Large School Division). The team has a short turn around as they host Jersey Shore tomorrow afternoon.