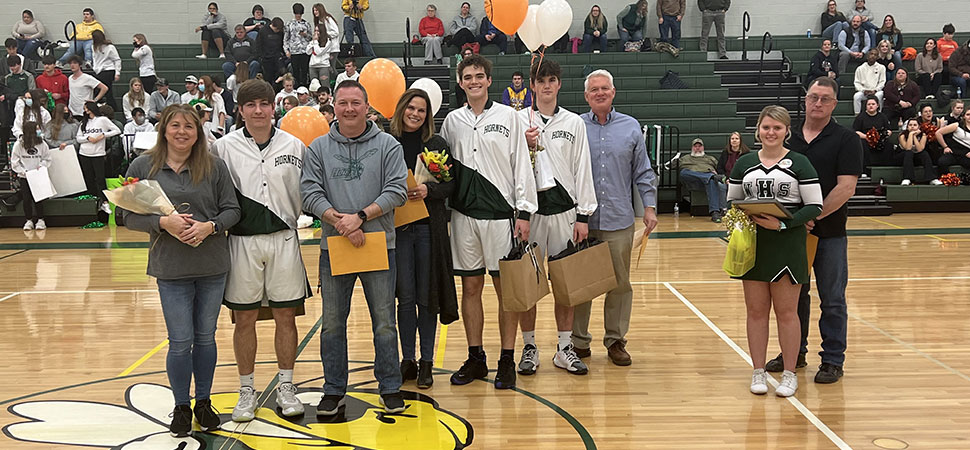 Hornets pull away late for Senior Night win over Towanda
By: Ed Weaver | NTL Sports | February 17, 2022 | Photo courtesy Ed Weaver
A 22-7 fourth quarter run by the Wellsboro Varsity Boys Basketball team led them to a 61-40 win over Towanda during Senior Night on Wednesday, February 16.
"These kids have been with me for a long time," head coach Steve Adams said of his senior players. "To see them on the floor together was nice and to coach them has been an honor. They're all very good basketball players but more important they're good people. I've coached Darryn in multiple things so he's like a son to me so not having him around next year is going to be tough. And Drew and Liam have always been here and have given all they have to the game and we're going to miss them when they go. I'm just appreciative of the efforts they've given over their careers."
The Hornets had their hands full with the Black Knights until late in the third quarter. They had a 17-15 lead after the 1st and a 27-25 lead at halftime. It wasn't until late in the third quarter where Wellsboro got some breathing room. After a buzzer-beating three by sophomore Caden Smith the Hornets held a 39-33 lead.
The flood gates opened for Wellsboro in the fourth as they went on their scoring run to break open the game.
"When its senior night there are always emotions and guys are trying hard," continued Adams. "I don't know if we were tight, but in the second half they finally got into the flow of the game. Our defensive intensity picked up and our offensive execution was better."
Senior Liam Manning led all scorers with 24 points and grabbed 15 rebounds for a double-double. Senior Darryn Callahan finished with 16 points, junior Peyton McClure had 8, junior Conner Adams scored 7 and made 9 assists, and junior Cameron Brought and Smith rounded out the scoring with 3 points. Callahan added 8 boards and 4 assists, Brought grabbed 7 rebounds, and senior Drew Manning added 5 rebounds.
Justin Schoonover led Towanda with 11 points.
Towanda won the JV game 40-32 to end Wellsboro's season with a 9-10 record. Smith led Wellsboro with 15 points.
The win concludes the team's season at 17-5 overall and 13-3 in the NTL Large School Division. The team will be back on the court in the PIAA District IV 3A playoffs next week. Wellsboro currently sits in the fourth spot in the 3A field, giving them a home game.

"We're going to pick up a scrimmage before our district game so we should be okay," concluded Adams. "We'll try to mimic who we'll see in practice as much as possible and a scrimmage a couple days before we play should bring the intensity back up. We're excited to host a playoff game and you only get to host a playoff game by doing what you need to do in the regular season. That's a reward for these guys and I'm happy for them to do it."