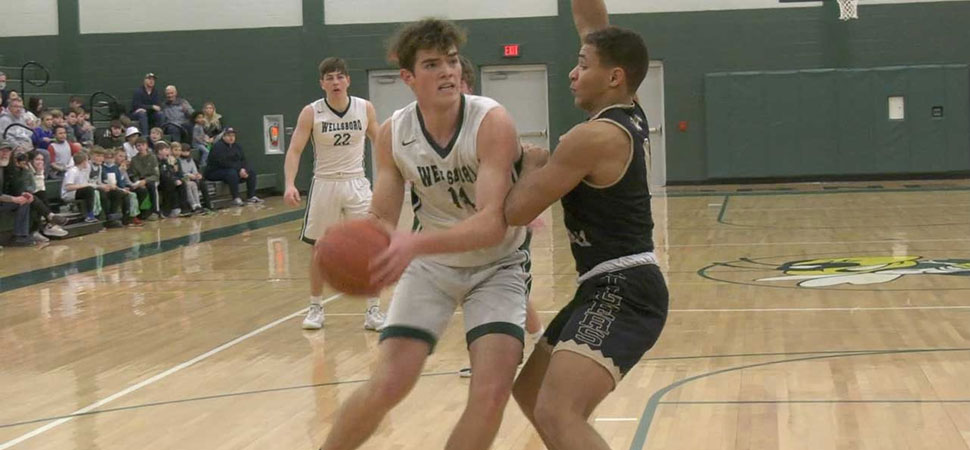 Hornets fall to Southern Columbia in overtime
By: Ed Weaver | NTL Sports | February 25, 2022 | Photo courtesy The Home Page Network
A deep three-point shot by Liam Klebon at the buzzer in overtime ended the Wellsboro Varsity Boys Basketball team's season in the PIAA District IV 3A quarterfinals on Thursday, February 24.
"This was a tough loss for everyone," head coach Steve Adams. "The boys played their hearts out. I'm proud of all of them. They have improved every year from 6 grade through graduation. I will miss this senior group but look forward to next season. Our players show humility in victory and dignity in defeat. They are a great group."
In a rematch of the opening round of the Shamokin Xmas Tournament, #5 Southern Columbia defeated the #4 seed Hornets 61-58. The Hornets held a 14-12 lead after the 1st quarter and extended their lead to 25-22 at halftime. The visiting Tigers outscored Wellsboro 17-16 in the third quarter to cut the lead to two points, 41-39, heading into the 4th quarter. The Tigers again outscored the Hornets in the final 8 minutes, 10-8, to knot the score at 49-all to force overtime.
Wellsboro had a 55-54 lead with just over 1:20 remaining in bonus time and pushed the lead back to three on a layup by junior Conner Adams. A Klebon layup cut Wellsboro's lead back to one with one minute left to play before Klebon's shot won it for Southern Columbia.
Adams led all scorers with 19 points, senior Liam Manning had 14 points and 9 rebounds in his final game to join the 500-rebound club, and junior Peyton McClure added 10 points. Senior Darryn Callahan and sophomore Hayes Campbell scored 6 points each and junior Cameron Brought rounded out the scoring with 3 points. Adams added 8 assists, Campbell and Brought each grabbed 7 rebounds, and Callahan finished with 6 rebounds and 3 assists.
The game was also the final game for brothers Liam and Drew Manning and Callahan. Liam Manning led the Hornets with 330 points and 170 rebounds on the year to finish with 877 points and 508 rebounds for his career. Drew Manning scored 59 points and had 45 rebounds and 8 assists this season to finish his career with 103 points and 77 rebounds. Callahan finished the season with 224 points, 145 rebounds, 64 assists, and 45 steals. He finished his career with 552 points, 355 rebounds, 131 assists, and 97 steals.
The loss ends Wellsboro's season with a 17-6 record. Southern Columbia advances to the semi-final of the 3A tournament, where they will take on the winner of Loyalsock/Mount Carmel at a date, time and location to be determined.