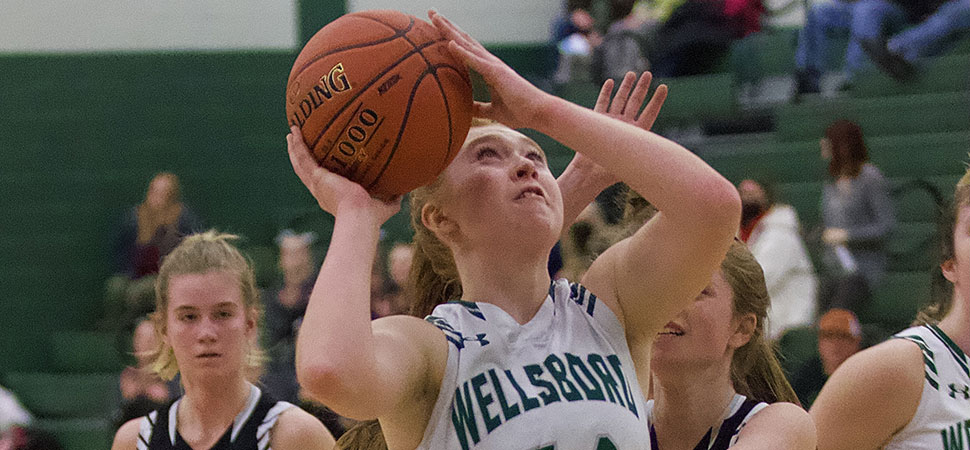 Hornets drop pair of Monday games to SJNRA, Athens
By: Ed Weaver | NTL Sports | February 8, 2022 | Photo courtesy Lance Larcom/ntwsportsreport.com
The Wellsboro Varsity Basketball teams dropped a pair of games Monday, February 7. The boys lost to St. John Neumann 74-55 on the road and the girls fell to Athens, 52-37.
In the boys game the Hornets held a 15-12 lead over SJNRA after the opening quarter, but were outscored 43-22 in the second and third quarters. SJNRA held a 55-37 lead entering the fourth quarter, which SJNRA edged Wellsboro, 19-18.
"We didn't approach the game with the right mindset," head coach Steve Adams said. "Hopefully we learn and can block out noise."
Junior Conner Adams led the Hornets with 14 points and 5 assists, senior Liam Manning had 12 points and 8 rebounds, sophomore Hayes Campbell finished with a double-double of 11 points and 10 rebounds, and senior Darryn Callahan added 9 points and 5 boards. Junior Peyton McClure had 6 points, senior Drew Manning pitched in 2 points and an assist, and junior Cameron Brought chipped in a point and 6 rebounds.
Davion Hill led all scorers with 23 points for SJNRA.
There was no JV game.
In the girls game the Lady Hornets 13-6 after the opening quarter but went on a 13-8 run to cut the lead to 21-19 at halftime. The Lady Wildcats edged Wellsboro 13-12 in the third to lead 34-31. The Lady Hornets got to within a point at 36-35 with 4:04 remaining, but Wellsboro was eventually forced to foul down the stretch. Athens hit 8-of-12 from the foul line to increase their lead while holding Wellsboro's offense to six points in the final quarter to go on to the win.
Senior Emma Coolidge led Wellsboro with 15 points, freshman Chloe Brandenburg finished with 8, junior Ella Posada added 6, and sophomores Emily Morris and Maddy Mascho pitched in 4 points apiece.
Caydence Macik led Athens, and all scorers, with 23 points.
Wellsboro won a low-scoring JV game, 10-8, behind 3 points from sophomore Hannah Gilmour and 2 points each by Morris, freshmen Megan Robbins and Raegan Watkins-Bourret. Sophomore Olivia Chilson also added a point.
The Wellsboro boys fall to 13-4 (10-2 NTL Large School Division) and the girls drop to 8-9 (7-5 NTL Large School Division). The Lady Hornets return to action tomorrow night at Towanda and the boys travel to Williamson on Wednesday.