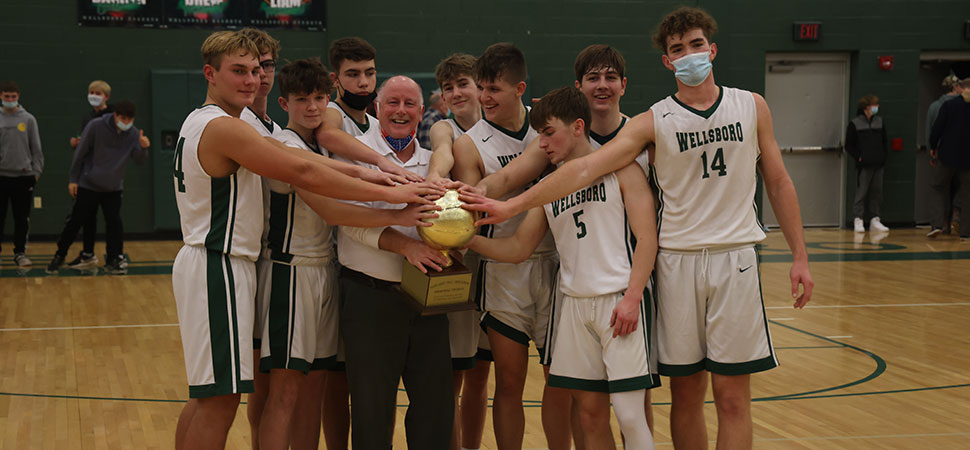 Hornets capture Berguson Trophy for 2nd straight year
By: Ed Weaver | NTL Sports | January 9, 2022 | Photo courtesy Dr. Robert Bair
For the 2nd straight year the Wellsboro Varsity Boys Basketball team won the Peg Berguson Memorial Trophy Game. In the game's 8th year, the Hornets defeated rival North Penn-Mansfield 57-49 on Saturday, January 8.
The win evens up the series at 4-all, with the Hornets winning 4 out of the last 5 games.
"There was a lot of emotion for this game and I give Mansfield a lot of credit," head coach Steve Adams said. "Coach Burleigh does a good job and his kids were ready to play. We knew they would be, not only for league standings but also for the Berguson Trophy. We came off a tough loss at Troy and I was anxious to see how we rebounded and responded and I felt offensively we were in sync most of the time and our defensive execution was pretty good."
The Hornets had an early 7-3 lead two and a half minutes into the opening quarter until the Tigers, led by Brody Burleigh with 9 straight points, went on a run to take the lead midway through. The Hornets took back over and led 15-9 with just under three minutes remaining and won the quarter, 19-12.
In the second Wellsboro's defense held North Penn-Mansfield to just six points, to put a 12-point cushion over their rivals at the half, leading 30-18.
North Penn-Mansfield cut into Wellsboro's lead in the third quarter. They got to within 5 points (30-25) after a pair of foul shots by Sam Lawrence midway through the quarter. A bucket by senior Liam Manning pushed the lead back 9, but at the end of the quarter Wellsboro's lead was 41-34, with the Tigers outscoring the Hornets 16-11.
The Tigers kept chipping away at Wellsboro's lead and at the 3:16 mark, an Andrew Green three-pointer got North Penn-Mansfield within a point at 45-44. However, a big layup from junior Conner Adams put the Hornets back up three, then a jumper by senior Darryn Callahan pushed the lead back up to 5, 49-44, in favor of Wellsboro, forcing the Tigers to foul. Burleigh hit the Tigers' final shot from the floor with 36 seconds remaining to bring the score to 52-46. Wellsboro's next 5 points came at the foul line, which they shot 11-for-18 on the night, to ice the win.
Three Hornets scored in double-figures on the night, led by junior Peyton McClure with 13. Adams finished with 12 and Callahan dropped 11. Manning had 9 points and sophomore Hayes Campbell and junior Cameron Brought added 6 points each. Manning grabbed 10 boards, Brought had 8 rebounds of his own, and Adams and Callahan each made 5 assists.
Burleigh led the Tigers with a game-high 16 points and Eli Shaw added 10. Karson Dominick also added 5.
"Darryn's been able to guard Karson, he's a very good player, and I'm very pleased with the job Darryn did. I think he responded and he also gave us that senior leadership we needed. Liam just coming back from COVID, coming in and out, and Cameron did an outstanding job. Hayes did an outstanding job and Conner and Peyton did what we expected them to do. They made big foul shots down the end and to win big games you have to make your foul shots."
In the JV game the Hornets fell to North Penn-Mansfield 45-32 for their second straight loss. Sophomore Ian Hoose led Wellsboro with 14.
The win improves the Hornets to 6-2 (4-1 NTL Large School Division). The team is back in action at home on Wedensday, January 12 against Williamson.