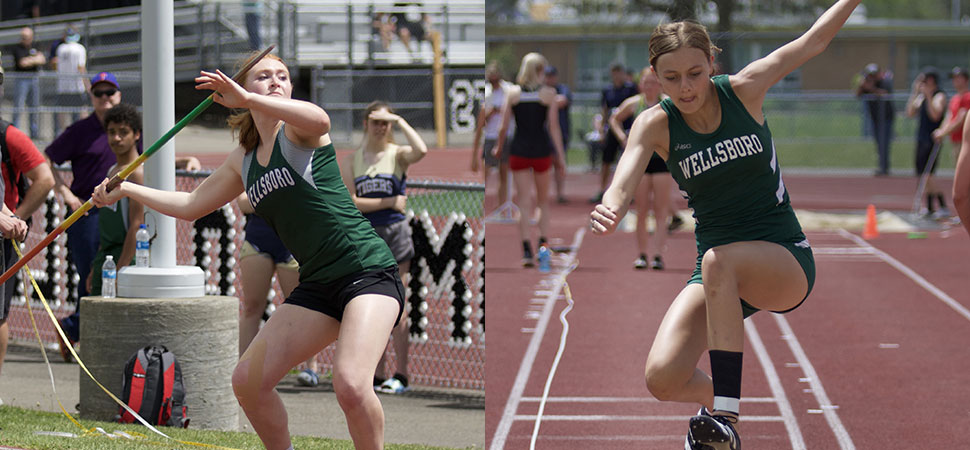 Coolidge, Gehman have strong afternoons at NTL Championships
By: Ed Weaver | NTL Sports | May 14, 2022 | Photo courtesy Lance Larcom/ntwsportsreport.com
Senior Emma Coolidge and freshman Annie Gehman led the Wellsboro Girls Track team at the NTL Championships at Athens on Friday, May 13.
Coolidge won the shot put with a throw of 29-ft, 10 and was 2nd in the javelin with a throw of 114-ft, 2.
"Starting at the bottom my freshman year and working my way up to where I'm at now I've definitely improved," Coolidge said. "It makes me feel good because I've really shined this year in shot. Javelin, it was a really good first throw, I was zoned in, and I stayed consistent the whole day."
Gehman had one of the best days a Wellsboro freshman has had in a league meet. She finished 5th in the long jump (14-ft, 10.5), 3rd in the high jump (4-ft, 8), and 2nd in the triple jump (33-ft, 1.25). She also helped the Lady Hornets' 4x100m relay team finish 3rd with a time of 55.18.
"It went really well, I can't believed I medaled in every one of my events," she said. "I had no clue what to expect, I was very nervous to be honest, I had 0 expectations. I thought I'd do good in the high jump, but other than that I really expected nothing and I'm very surprised and very happy. I'm very excited for districts next week."
Wellsboro finished 6th overall as a team with 49 points. Athens (159) won, followed by Wyalusing (117), Towanda (111.5), Troy (92), Northeast Bradford (52), Williamson (46), Canton (39), and North Penn-Mansfield (24.5).
Junior Kate DeCamp (29.21) was 8th in the 200m, junior Ella Posada (54.5) was 6th in the 300m hurdles, and sophomore Grace Harlan (27-ft, 7) was 6th in the shot.
The team is back in action next Thursday and Saturday in Williamsport for the PIAA District IV Championships.