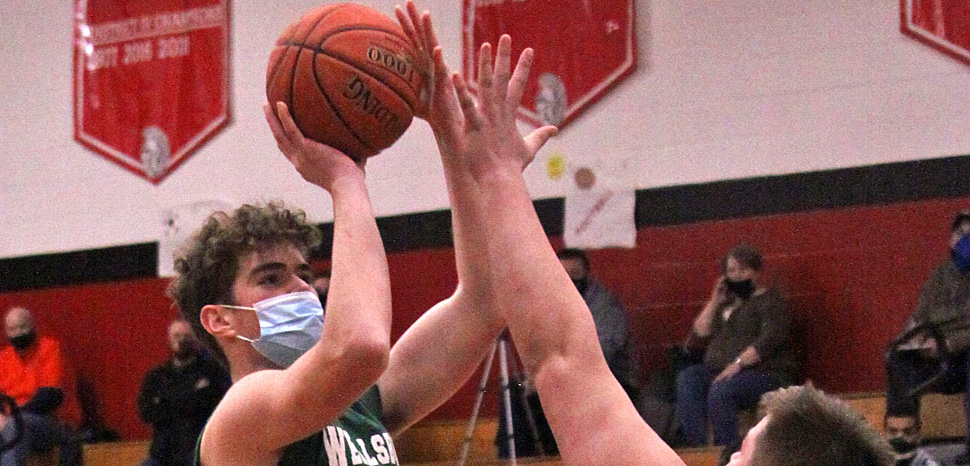 Trojans upset Hornets in final seconds
By: Ed Weaver | NTL Sports | February 18, 2021 | Photo courtesy Chris Manning
A late three-point shot by Ethan VanNoy and a pair of foul shots by Zeb Oldroyd pushed the Troy Trojans past the Wellsboro Varsity Boys Basketball team, 60-57 on Wednesday, February 17.
"The difference in the game was they where 7-for-7 from the foul line and we where 8-for-17. Other than that we did what we needed to win," head coach Steve Adams said.
After a 15-15 tie at the end of the opening quarter Wellsboro went on a 13-7 run in the second quarter to lead 28-22 at halftime. Troy cut into the Hornets' lead after a 19-point third quarter to trail 44-41 then began slowly chipping away. The Trojans finished the final 8 minutes with another 19-point quarter before VanNoy and Oldroyd sealed the win.
Ty Barrett led all scorers with 30 points.
Junior Liam Manning led three Hornets in double figures on the evening with 18 points. Sophomore Peyton McClure scored 12 points and Junior Isaac Keane had 10. Sophomore Conner Adams added 9 points, junior Darryn Callahan finished with 6, and junior Drew Manning rounded out the scoring with 2 points. Liam Manning had 6 rebounds, Callahan and Keane added 4 assists and 4 rebounds apiece, and Adams made 4 steals.
The win puts the Trojans in firm control of the top spot in the NTL Large School Division (11-1) with the Hornets right behind them at 10-3. The Hornets finish off the week at South Williamsport on in a non-league match up on Friday evening before taking on rival North Penn-Mansfield on Monday.