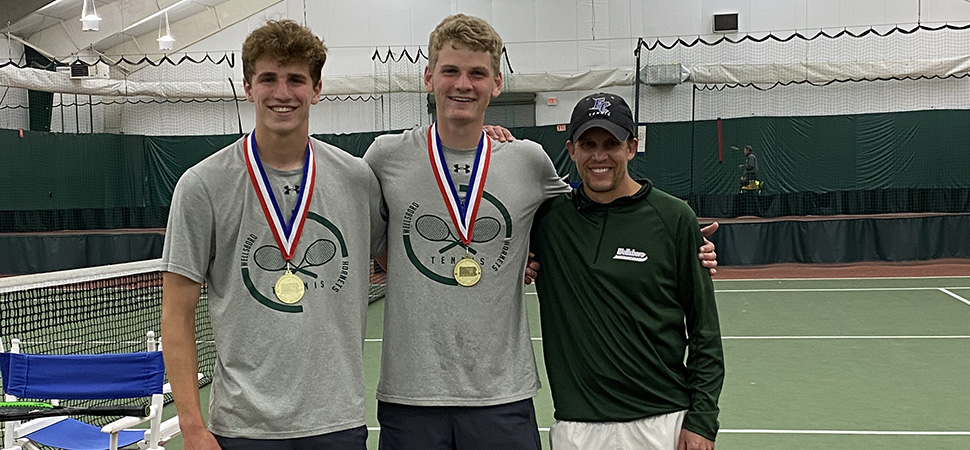 Poirier, Singer claim D4 Boys Tennis doubles gold
By: Garrett Carr | NTL Sports | May 18, 2021 | Photo courtesy Maureen Poirier
Down 5-6, 0-40 in the first set of the District IV Boys Tennis Doubles Tournament Final, it looked like Wellsboro's Zach Singer and Will Poirier were going to let a golden opportunity slip away.
The Hornet pair had leads of 4-1 and 5-4 in the first set, but a late rally by Andrew Stapp and Jared Matlack of Montoursville had given them three set points. But, when the going gets tough, the tough get going. And make no mistake, there was no one tougher than the pair of Hornet seniors Monday at the Central PA Tennis Center as they stormed back, saved all three set points, won the game on the second set of deuce points, and dominated a tiebreak 7-1 en route to capturing gold 7-6 (1) 6-3.
It was the Hornets' first title since Dylan Christman and Junpei Osakabe in 2011.
"I was definitely nervous about our shots but once we came back to deuce, I knew we had it from there," Poirier said. "We had the momentum, and they were on their heels, so we got to the net and finished our shots."
Getting to the net and finishing was what set the Wellsboroians apart Monday. The pair, both 6-ft, 3-in, cover a lot of court and have reach not normally seen in area tennis. Couple that with the way both of them volleyed at the net, showing off not just power but great touch, and you have a winning formula.
The pair advanced to the finals by beating Harris and Markle out of Selingsgrove 6-4, 6-0. Poirier and Singer got out to a 4-1 lead, and then after the Seals knotted it up at 4, Wellsboro won eight straight games to take the match and clinch a state berth.
One court to their left, Stapp and Matlack played a much more tense semifinal against Hazzard and Getz of Central Columbia. They rallied from behind in the first set to win 6-4, and survived a tense 4-3 game to go up 5-3 and eventually win 6-3 in the second, setting up an all-area final.
After trading opening service games to start the championship match, Wellsboro won three straight to go up 4-1. After breaking Matlack's serve at 4-3 to go up 5-3, Wellsboro's top server in Poirier had the set on his racket. But, the Warriors played their best tennis of the game and won three straight games, and came agonizingly close to winning a fourth straight, a game that would've given them the crucial first set. With their backs against the wall, the two Hornets played mistake free tennis and went a stretch of 14 points without an error, winning 12 of them.
Wellsboro jumped out quickly again, as they went up 3-1, then 4-2, then 5-2 in the second set. But, Montoursville broke Singer's serve at love and had Stapp, who has maybe the most feared first serve in all of District IV, stepping to the service line to make it 5-4 and put some real scoreboard pressure on the Hornets. It was not to be for the Warriors. Once again, the Hornet pair simply stopped making mistakes and when a Stapp shot went wide on match point, the two cousins, neighbors, and best friends looked at each other and exulted, pumping their fist.
"I'm surprised because the first day we played doubles together we got smoked by Coach Borzok and my dad," Singer said. "We kept improving and it feels great to get the result and advance to states.
"What a lot of fun," Coach Andy Borzok said. "It was a blast. They won because they were confident and they minimized their mistakes and they kept pushing all the time."
Both Wellsboro and Montoursville will advance to the PIAA tournament at the Hershey Racquet Club, starting next Friday.