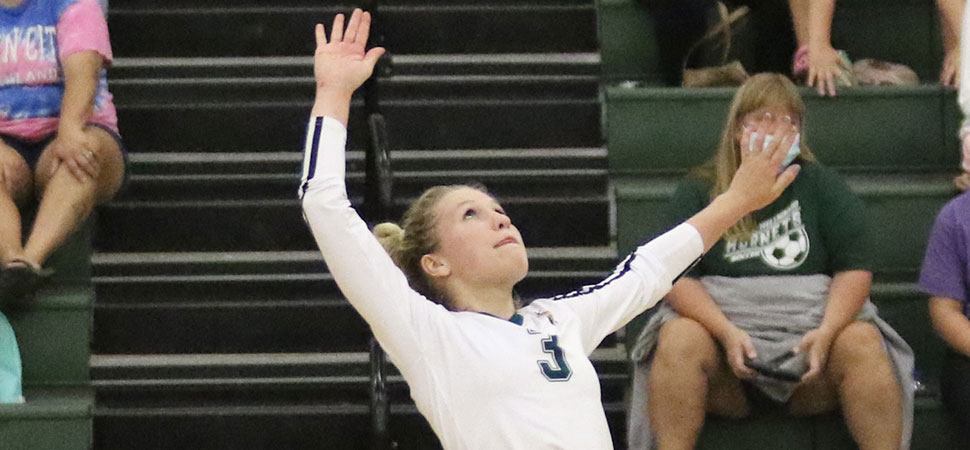 Owlett, Logsdon named to NTL Volleyball All-Star team
By: Ed Weaver | NTL Sports | November 24, 2021 | Photo courtesy Lance Larcom/ntwsportsreport.com
Senior Emma Owlett and freshman Paige Logsdon were named to the NTL Volleyball All-Star team as the league officially announced their selections on Wednesday, November 24.
Owlett led the Lady Hornets with 219 kills while recording 27 points, 20 aces, 2 blocks, 34 digs, and 45 assists.
"Emma capped off her career with a fantastic senior year," said head coach Sharon Zuchowski. "For her size she was very deceiving and had the benefit of being underestimated by several teams. She definitely made an impact in the league and on our team. She will be missed next year."
Logsdon finished her freshman year by finishing 2nd on the team with 125 kills. She scored 78 points and had 30 aces, led the team with 92 blocks, and recorded 12 digs.
"Paige had a very good rookie year," continued Zuchowski. "It's a big step from middle school to varsity. She experienced something new every match and she pushed herself and rose to the challenge. I am very pleased with her progress and she should be proud of her success."
WellsboroAthletics.com would like to congratulate Emma and Paige on their All-Star selections.
View the complete 2021-22 NTL Volleyball All-Star teams.