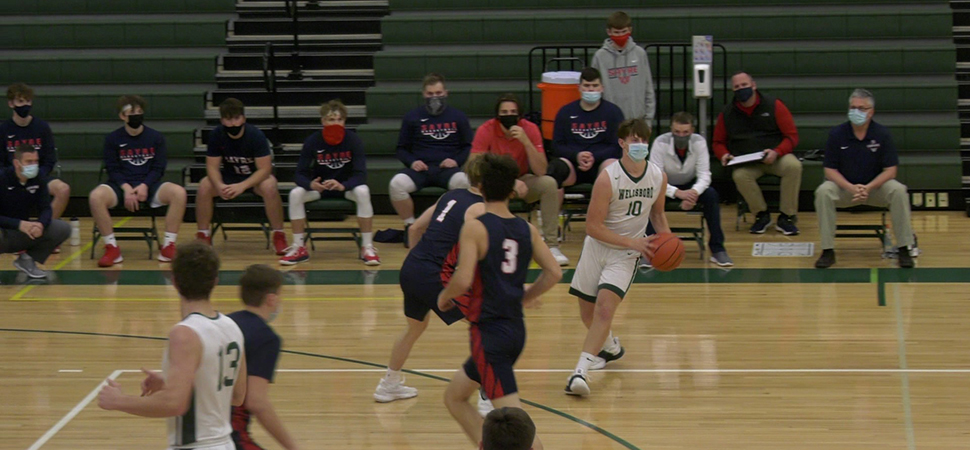 Monster second half leads Hornets past Redskins
By: Ed Weaver | NTL Sports | January 23, 2021 | Photo courtesy The Home Page Network
A 36-point second half led the Wellsboro Varsity Boys Basketball team to a 64-45 win, their 3rd straight, over Sayre on Friday, January 22.
The Hornets held a slim 12-7 lead after the opening quarter then built their lead up to 21-8 midway through the second quarter, but a Sayre run late in the half cut the Wellsboro lead to 28-23 at the half. Wellsboro's offense then came alive, led by juniors Liam Manning and Darryn Callahan, to outscore Sayre 17-12 to push the lead back up to 45-35.
The Hornets continued their strong offensive efforts in the fourth, outscoring Sayre by 9, 19-10, to win by 19.
Manning led all scorers on the evening with 18 points, while grabbing 10 rebounds, while Callahan finished with 13 points. Sophomore Peyton McClure hit four three pointers for 14 points. Sophomore Conner Adams scored 9 points, Junior Isaac Keane added 6 points, and juniors Drew Manning and Ryan Sweet each chipped in two points.
Callahan added 8 rebounds and 4 steals, Adams finished with 5 rebounds and 4 assists, and McClure added 5 rebounds.
In the JV game the Hornets won 41-30 to improve to 4-0 on the season. Sophomore Cameron Brought (14) and freshman Caden Smith (10) led the way for Wellsboro.
Wellsboro (3-1, 3-1 NTL Large School Division) is back in action on Tuesday, January 26 at Northeast Bradford.