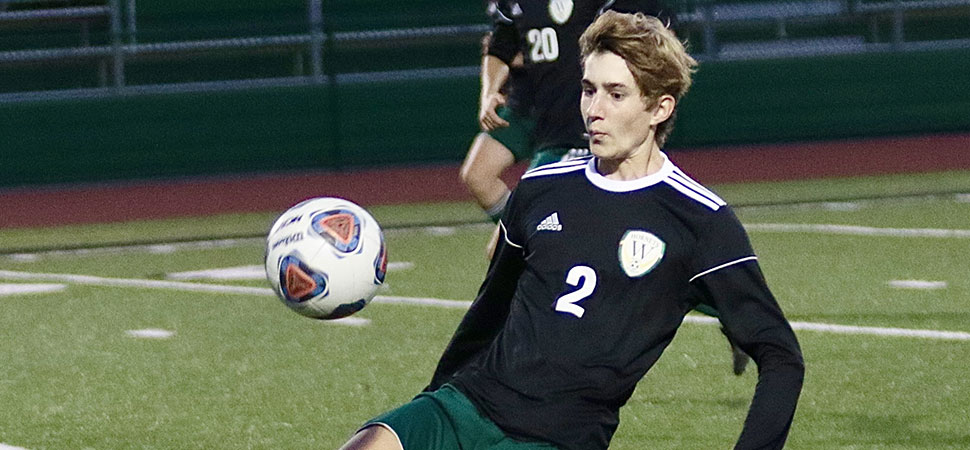 McClure named NTL Defensive Player of the Year
By: Ed Weaver | NTL Sports | November 8, 2021 | Photo courtesy Lance Larcom/ntwsportsreport.com
Junior Peyton McClure was named the NTL Defensive Player of the Year as the league announced their All-Star team late last week.
"Being selected as the NTL Defensive Player of the Year is recognition well deserved and validates the value we placed on Peyton's level of play this season," said head coach Todd Fitch.
"Peyton's consistent performance at center back was, without a doubt, a contributing factor in any on field success we had this season."
McClure attempted only 5 shots on the season and scored on three of them and also contributed 3 assists to score 9 points on the season.
Joining McClure on this year's All-Star team are junior Jack Poirier, senior Owen Richardson, senior Brody Morral, junior Aiden Gehman, senior Matt Richards, and sophomore Caden Smith.
Poirier was a 1st team forward after leading the Hornets in goals (24), assists (16), and points (64). Richardson was a 1st team midfielder with 5 goals and 4 assists, Morral was a 1st team defender with 1 goal scored, and Gehman was named 1st team goalie after making 97 saves in 1,235 minutes of play.
Senior Matt Richards was a 2nd team forward after being the 2nd leading scorer for Wellsboro with 10 goals, 5 assists, and 25 points. Smith was also a 2nd team selection, at midfield, with 7 assists and 7 points on the season.
View the complete NTL All-Star Boys Soccer team.