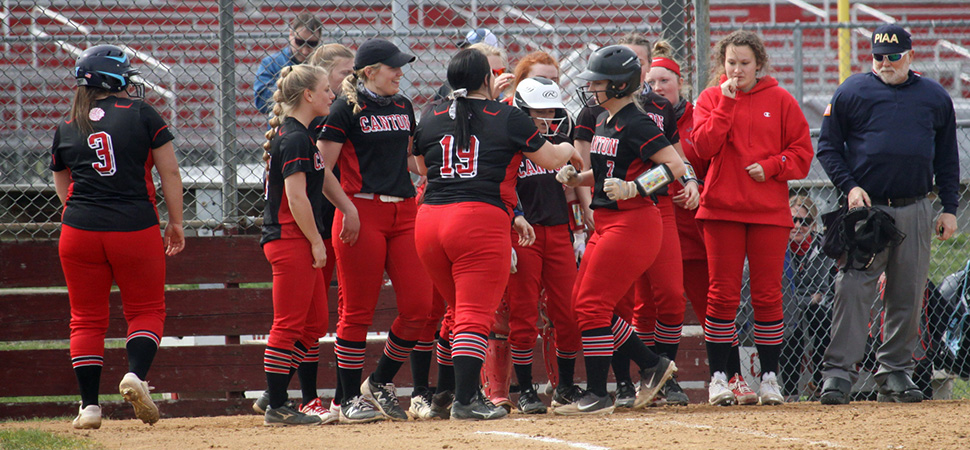 Lady Warriors rally to top Liberty 10-9 on Shay walk-off single
By: Chris Manning | NTL Sports | April 4, 2021 | Photo courtesy Chris Manning
CANTON — A walk-off single by Jillian Shay scored Keri Wesneski, and Canton rallied to beat NP-Liberty 10-9 in eight innings for their first NTL softball win of the season.
NPL jumped out to a 6-0 first inning lead, and extended that to 9-2 after the second. Canton then chipped away to tie it at 9-9 after the sixth.
Then in the eighth Shay hit a bases loaded 2-out single to get the win.
Alexis Baldwin (2-for-4) had a 2-run home run and a double to go with two runs and 2-RBI, with Emmi Ward going 3-for-5 with two doubles, 2-RBI and three runs scored.
Tara Acla (2-for-4), Wesneski (2-for-5), Molly Ward (2-for-4) and Allyson Butcher (2-for-5) all had multiple hits in the game. Wesneski had a triple with two runs and an RBI, Molly Ward knocked in two runs while scoring one, Butcher had an RBI and Acla scored a run.
Shay had a run scored to go with her RBI, while also starting, going an inning and a third, allowing seven hits, one walk and seven earned runs.
Wesneski came on to go the rest of the way to get the win, striking out four while allowing seven hits and two earned runs.
Canton will travel to Sayre on Tuesday.