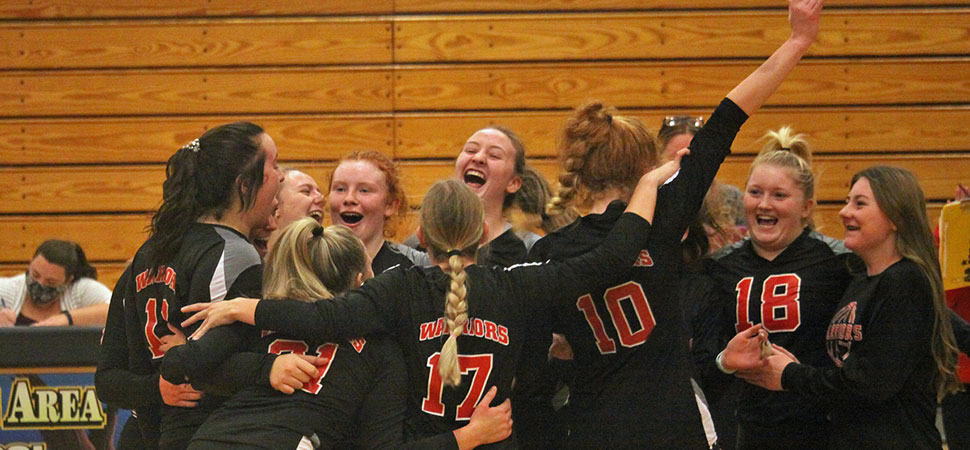 Lady Warriors edge Berlin to advance to PIAA Volleyball Class A Semi-Finals
By: Chris Manning | NTL Sports | November 15, 2021 | Photo courtesy Chris Manning
BELLEFONTE - Canton kept their season going with a 3-2 win over Berlin-Brothersvalley in the PIAA, Class A volleyball quarterfinals.
The Warriors won the first set 26-24, rallying from a 24-22 deficit to score the final four points to nab the win.
The Mounties won the next two 25-22 and 25-10, but Canton came back to win the fourth 25-21.
In the fifth set they turned a 6-3 deficit into a 9-6 lead, with Marissa Ostrander serving up five points during that stretch. Berlin Brothersvalley would chip away to tie the score at 13-all, but back to back violations on the Mounties gave Canton the 15-13 win for the set and match.
Aislyn Williams had 12 points, two aces, 13 kills, 14 digs, and one block for the Warriors, while Allyson Butcher notched 11 points, two aces, one kill, 29 assists, and 19 digs.
Jillaney Hartford had five kills, and a block, as Keri Wesneski finished with 10 points, two aces, 12 kills, and 17 digs.
Ostrander had 15 points, three aces, three assists, and 14 digs, Rachel Martin had 16 points, two aces, two kills, one assist, and five digs, and Trisha Gilbert notched 15 points, four aces, three kills, one assist, and seven digs.