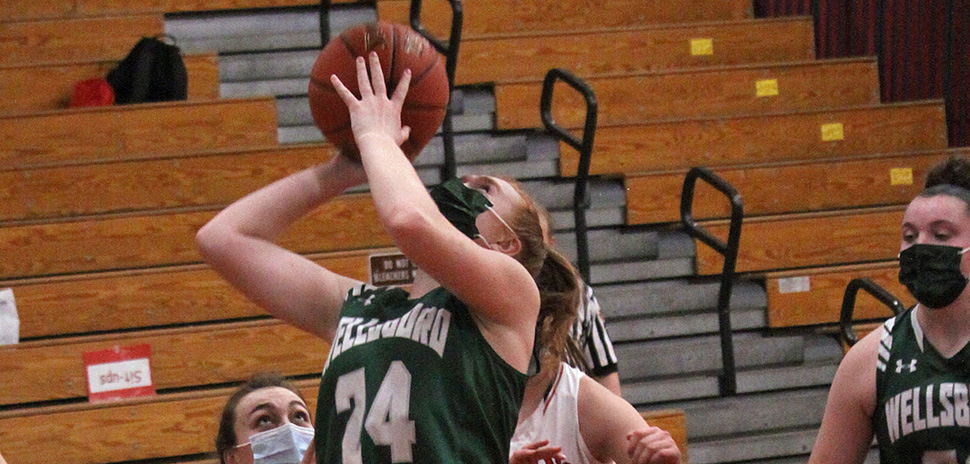 Lady Hornets survive late Troy rally
By: Ed Weaver | NTL Sports | February 25, 2021 | Photo courtesy Chris Manning
The Wellsboro Varsity Girls Basketball team survived a fourth quarter rally by Troy to win their 2nd straight game, and third out of their last four, on Wednesday, February 24.
After trailing 11-6 after the first quarter the Lady Hornets went on a 16-2 run in the 2nd quarter to lead 22-13 at halftime. They extended their lead by outscoring Troy 10-6 after the intermission to take a 32-19 lead into the fourth quarter. However, that's when the Lady Trojans went on a tear.
Troy scored 16 points over the final 8 minutes, while holding the Lady Hornets to 11 points, to cut into the lead, but the Lady Hornets were able to hold on as they improved one game closer to .500 to be able to participate in post-season play. The Lady Hornets currently sit in the 6th position in the Class AAA standings just below Warrior Run (6-8) and just above Line Mountain (7-9). Troy is the 8th seed (6-11).
Junior Abbye Cavanaugh led Wellsboro with 10 points, junior Emma Coolidge added 9 points, senior Kiyah Boyce finished with 8, senior Bailey Monks chipped in 6, senior Kathryn Burnett and sophomore Rylie Boyce scored 4 points apiece, and senior Sarah Mosher rounded out the scoring with 2 points.
In the JV game Troy edged Wellsboro 20-19. Sophomore Ella Posada led Wellsboro with 9 points.
The win improves the Lady Hornets to 6-7 overall and 5-7 in the NTL Large School Division. Wellsboro has one regular season game left on its schedule, this Friday night against Williamsport.