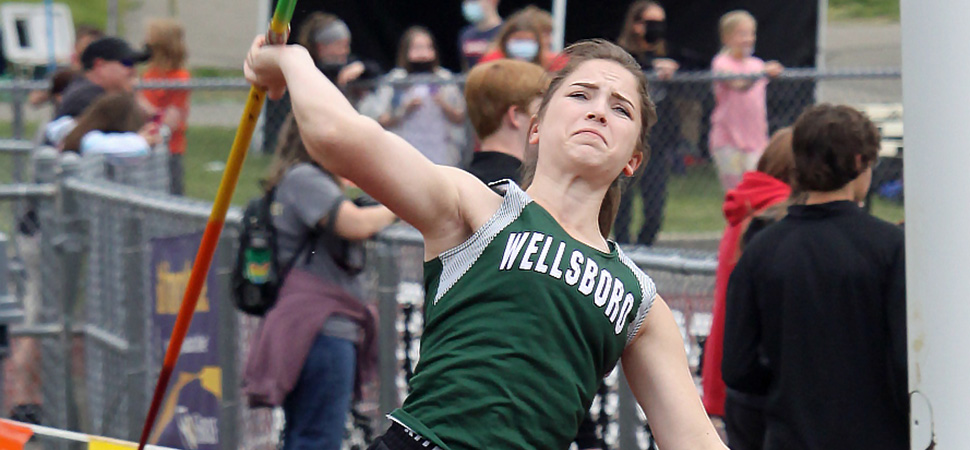 Lady Hornets claim four top-3 throwing finishes at NTL Coaches Invite
By: Ed Weaver | NTL Sports | May 15, 2021 | Photo courtesy Chris Manning
The Wellsboro Lady Hornets had a solid day in the throwing events at the NTL Coaches Invite in Athens on Friday, May 14.
This year's meet was not a league championship meet, but an invite for one last attempt to post better marks for next week's PIAA District IV championships.
Junior Emma Coolidge (107-ft, 1) won the javelin and senior Alina Pietrzyk (91-ft, 2) was 3rd. Senior Kiyah Boyce (28-ft, 11.5) was 2nd in the shot put and freshman Grace Harlan (27-ft, 8.25) finished in 3rd. Junior Hannah Morey was 6th in the 100m (14.19) and 6th in the 200m (29.79), freshman Emily Richardson (1:10.41) was 6th in the 400m, senior Aislinn Hoose (2:51.85) was 5th in the 800m, junior Madeline Bryant (6:44.64) was 9th in the 1600m, senior Kathryn Burnett (19.45) was 4th in the 100m hurdles and sophomore Ella Posada (56.84) was 5th in the 300m hurdles.
Madelyn Rudy (13-ft, 2.5) was 8th in the long jump and Pietrzyk (29-ft, 8.0) was also 5th in the triple jump.
View complete results from the 2021 NTL Girls Coaches Invite.