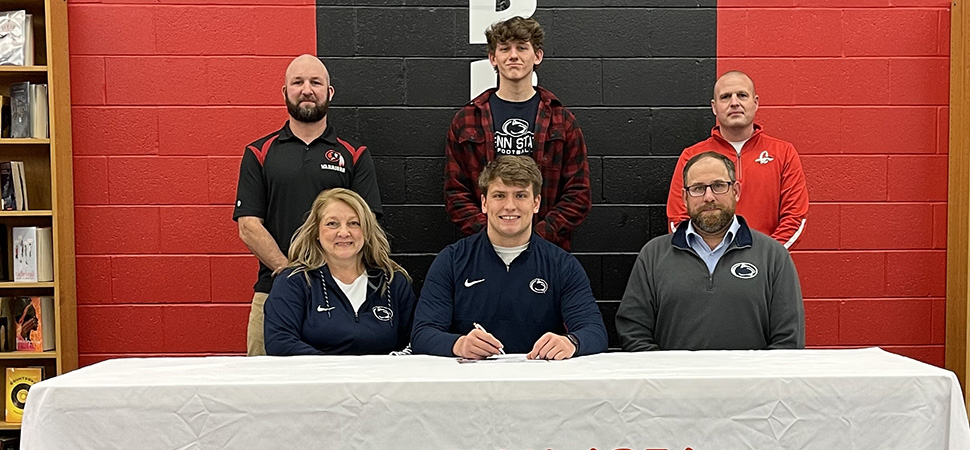 Knapp signs Letter Of Intent with Penn State
By: Ed Weaver | NTL Sports | February 3, 2021 | Photo courtesy Ed Weaver
Senior Tight End Ben Knapp signed his National Letter of Intent to The Pennsylvania State University on Wednesday, February 3.
Knapp initially declared his commitment back on November 23rd but made it official at Canton Area High School on National Signing Day. Knapp also had offers from Lake Erie College (Ohio) and Washington & Jefferson.
"It feels great after the whole process to know where I'm going and a big weight off my chest for sure," said Knapp. "I really liked the atmosphere and the way the campus felt. All the way through they made it feel like it was home, where it was Coach (Tyler) Bowen, obviously he was a big recruiter for me, then just getting around to meet the rest of the staff it just felt right."
Knapp, a two-time (2018 & 2019) PA Writers Class A All-State selection, set new Warrior records for all receivers with 93 receptions for 1,540 yards and 18 touchdowns. Knapp lit up, and led, the Northern Tier League in receiving in 2019 with 41 catches for 741 yards and 8 touchdowns. As a sophomore in 2018 he was 5th overall in the NTL catching 34 passes for for 548 yards and 5 scores.
Knapp credits his coaches and teammates for helping him get to the next level.
"It's a brotherhood. I've had teammates and coaches support me the entire step of the way. To have the confidence each time I step on the field to be ready every week is a huge help. I'm ready (to take that next step), I really don't get nervous (going from a small town to a huge college program), but it's a big jump but I'm very excited for it. I'm excited to branch out and work with a lot more people and be around a lot more people."
Knapp has immediate goals when he sets foot on Penn State's campus later this year.
"Right away I'm going to get into the shape and physicality that the coaching staff wants out of me. I'll do whatever they say and whatever they want. I'll also be focusing on my academics early on because at the end of the day that is what's going to matter when I leave Penn State. Those are my two primary goals, get my major set and be whatever they need me to be. They're getting a kid that works hard, that's very coachable, and that's open-minded. I could show up (on campus) today and if they ask me to change positions I would."