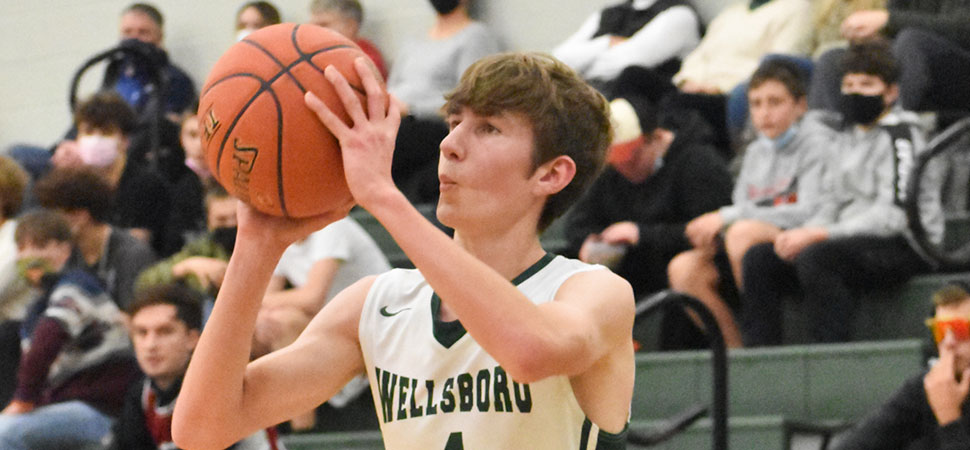 Hornets win double header at Cowanesque Valley
By: Ed Weaver | NTL Sports | January 31, 2021 | Photo courtesy Nick Coyle
The Wellsboro Basketball teams pulled off the sweep over Cowanesque Valley on Saturday, January 30, winning all four games in a doubleheader.
To start out the afternoon, the Hornet boys defeated the Indians 71-31 in the Varsity game and 59-34 in the JV game.
Wellsboro got off to another fast start behind juniors Liam Manning and Darryn Callahan to build a 20-point, 24-4 lead, after the opening 8 minutes. The Hornets expanded their lead to 38-15 lead then outscored the Indians 33-16 in the second half to enact the mercy rule and running clock for their 5th straight win.
Both Manning and Callahan finished with 20 points apiece, sophomore Peyton McClure finished with 9 points, sophomore Cameron Brought hit a pair of three point shots to finish with 8 points, sophomore Conner Adams and junior Isaac Keane scored 6 points each, and junior Drew Manning rounded out the scoring with 2 points. Keane added 11 rebounds and 7 assists, to his point total, Adams made 5 steals and dished out 4 assists, Liam Manning grabbed 10 rebounds, and McClure made 3 assists.
Freshman Hayes Campbell scored a game-high 20 points in the JV game, with freshman Ian Hoose adding 14 and freshman Caden Smith scoring 12.
In the girls game the Lady Hornets picked up their second straight win by rolling to a 42-16 win. Wellsboro's defense held the Lady Indians to just 6 points through the first three quarters.
Senior Bailey Monks and junior Emma Coolidge each scored a game-high 14 points, sophomore Rylie Boyce finished with 7 points, senior Kiyah Boyce, sophomore Alyssa Bisbing, and freshman Emily Morris all scored 2 points each, and senior Sarah Mosher rounded out the scoring with 1 point.
Mosher added 4 rebounds, 3 assists, and 3 steals, Coolidge had 7 rebounds and 5 steals, Monks grabbed 6 rebounds and blocked a shot, and Rylie Boyce added 2 assists and 3 steals.
The Lady Hornets won the JV game 26-11. Morris scored 15 points to lead Wellsboro.

Both teams return to action early next week at home. The boys host undefeated North Penn-Liberty on Monday and the girls host Troy on Tuesday, February 2.