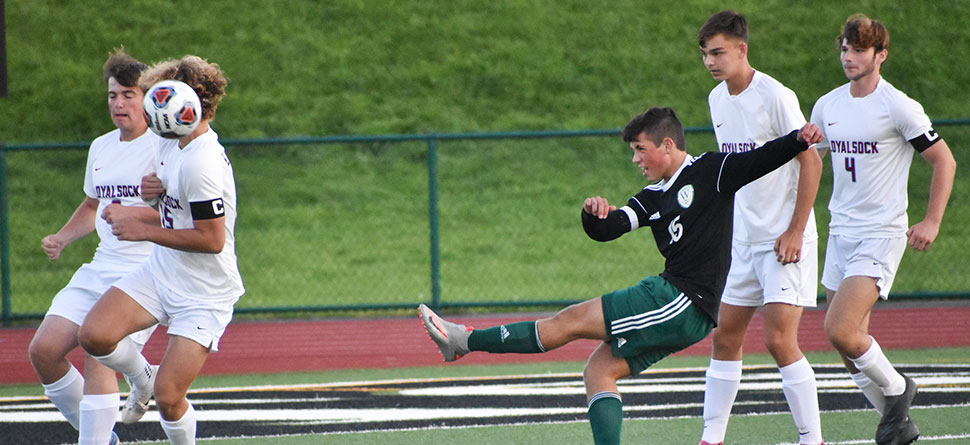 Hornets tie Loyalsock, 2-2
By: Ed Weaver | NTL Sports | September 12, 2021 | Photo courtesy Nick Coyle
The Wellsboro Boys Soccer team played to a 2-2 draw with Loyalsock under the lights at the Wellsboro Community Athletic Complex in non-league action on Saturday, September 11.
The Hornets struck first in the 8th minute as junior Jack Poirier connected with senior Dustin Benedict to put the Hornets up early. The Lancers would tie the game in the 35th minute and would later take a 2-1 lead in the 50th minute.
Wellsboro battled back to tie the game up at 2-2 as junior Peyton McClure converted a Poirier corner kick for a goal with just over 10 minutes remaining.

Neither team scored the rest of regulation, or during the two overtime periods, resulting in the draw.
"We still need to create more opportunities in our attacking half, but overall, that was our best played match this season," head coach Todd Fitch said. "I am very pleased with the grit demonstrated by the boys tonight."
The Lancers out shot Wellsboro 16-4 on the night and also held a 6-1 advantage in corner kicks. Junior Aiden Gehman made 14 saves in goal for the Hornets.
Wellsboro's JV team suffered their first loss of the season as Loyalsock won the JV game 3-0.
The Hornets (2-1-1, 2-0 NTL) resume league play on Tuesday, September 14 at Northeast Bradford.