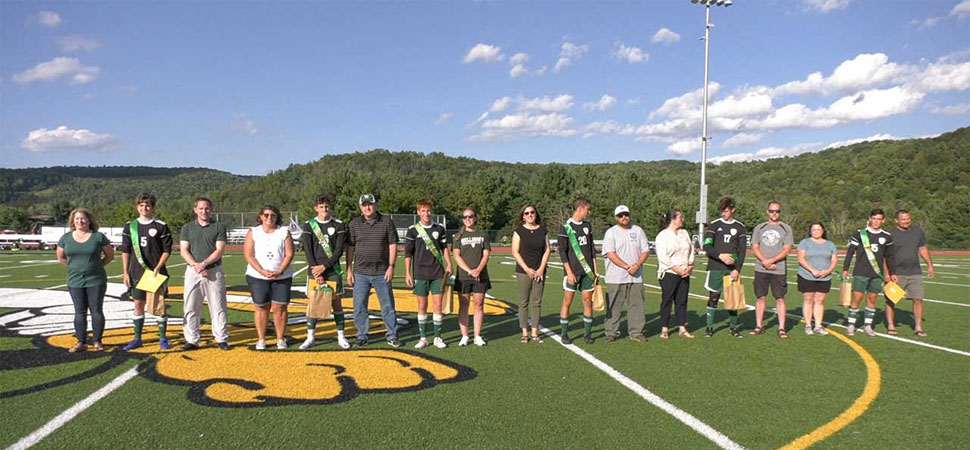 Hornets rolls to 7-2 win over Williamson on Senior Night
By: Ed Weaver | NTL Sports | September 8, 2021 | Photo courtesy The Home Page Network
The Wellsboro Varsity Boys Soccer team hosted Williamson for their home-opener and Senior Night on Tuesday, September 7 and scored a 7-2 win.
"After coming up short in our season opener on Saturday, it was important for us to get the result tonight," head coach Todd Fitch said. "With it being our home opener and senior night, it was especially pleasing to see our seniors involved in providing assists and putting the ball in the back of the net."
The Hornets struck first as senior Dustin Benedict connected with junior Jack Poirier just over six minutes into the contest to give the Hornets an early lead. Williamson tied it up later on a goal by Stephen Gohr with 25 minutes left in the first half. With eight minutes left Benedict and Poirier connected again to put Wellsboro up for good, 2-1, before senior Owen Richardson scored off an assist from senior Ethan Barlett to make it 3-1 as the half ended.
Wellsboro added four more goals in the second half. Richardson added his second of the game on a penalty kick while senior Matt Richards scored a hat trick.
Wellsboro also won the JV game 3-0 to improve their record to 2-0. Freshman Micaiah Fitch scored a pair of goals and freshman Jack Bryant added the third. Sophomore Mitchell Butler assisted on Fitch's second goal.
The win improves the Hornets' record to 1-1 (1-0 NTL). The team is back in action at home on Thursday against Towanda.