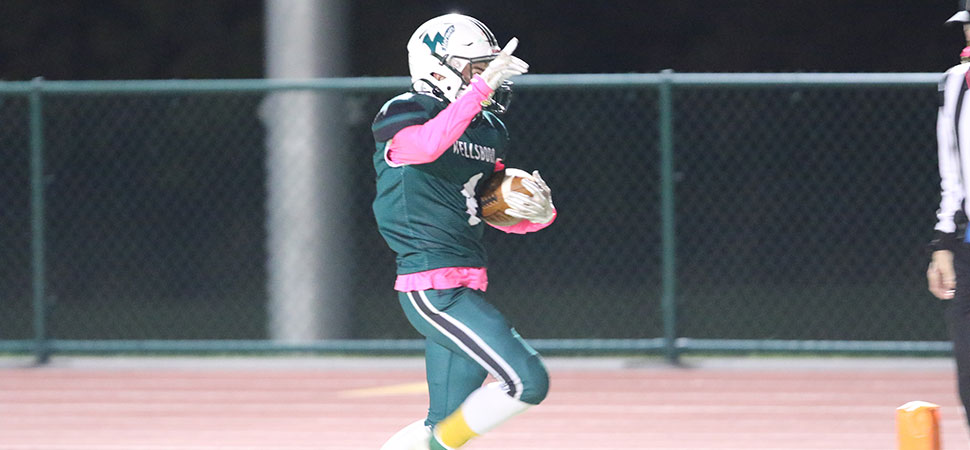 Hornets roll to 49-13 senior night win over Athens
By: Ed Weaver | NTL Sports | October 22, 2021 | Photo courtesy Dr. Robert Bair
The Wellsboro Varsity Football team racked up 499 yards of total offense en route to a 49-13 win over the Athens Wildcats during Senior Night on Friday, October 22.
The key to the Hornets' success on the evening was their line play. Offensively the line provided quarterback Isaac Keane plenty of time to make his reads along with opening up big holes for junior Conner Adams and senior Darryn Callahan to run through. On the defensive side of the ball they kept the Wildcats' Mason Lister and Shayne Reid in contain all night, and even sacked Lister four times on the evening.
"This was probably their best game they've played as a whole unit," Hornet head coach Matt Hildebrand said. "Now that we have guys at full strength we can cycle guys in and out, which we haven't been able to do all year. That was key for us to get some guys some breaks which we haven't been able to do a lot of. They played phenomenal, we were able to run the ball which we've struggled for a good part of the this year. And our run game sets up the pass."
Wellsboro started their scoring barrage early in the opening quarter and proceeded to rack up 28 points. Following a 54-yard pass to junior Jack Poirier, Callahan plowed his way in from 7 yards out to put the Hornets up 7-0 not even two minutes into the game. After a Wildcat three-and-out Wellsboro took back over and scored four plays later as Keane and Adams connected on a 28 yard pass with 7:16 remaining. Again the Wildcats went three-and-out giving the Hornets back the ball, which they again converted for points. This drive Adams and Keane connected again, this time from 33 yards out to push the score to 21-0 with 3:06 to go.
Wellsboro's final score of the quarter came as time expired on a 25-yard pass from Keane to junior Spencer Wetzel.
The Hornets found the end zone two more times before the first half expired, both on touchdown runs by Adams to bookend an Athens touchdown. With 1:56 left Adams scampered in from 14 yards out then scored again from 5 yards out 12 seconds before the half. Athens' touchdown came with 59 seconds left to play, as Lister found Reid for a 7-yard score.
Once the second half started, following the crowing of Wellsboro's Homecoming king and queen (from two weeks ago), and with a running clock, the Wildcats found the end zone first on their second drive. With 3:04 left in the third, Lister threw his second score of the evening, a 27-yard pass to JJ Babcock. The extra point missed and the Hornets led, 42-13.
Wellsboro's final score of the evening came later in the quarter. Exactly a minute after the Wildcats' last score, Adams broke free for his fifth touchdown of the game on a 74 yard run down the Athens' sideline to make it 49-13.
"We prepared all week for a different defense from Athens, they played North Penn, who runs an offense similar to ours, in a 3-5 look, so honestly we weren't prepared but Keane played a great game and made adjustments on the fly and get the ball into the hands of the open guy," Hildebrand continued. "They tried rolling some coverages against us and a couple of his (Keane) touchdowns came against blow coverages. As a senior things are starting to slow down for him and things are clicking right now. That's what you want to see heading into our rivalry week and playoffs."
Keane finished 8-for-11 through the air for a career-high 235 yards. He also tied his career-high with 3 touchdowns in a game (2019 vs. Canton and 2020 vs. Towanda). He also had an interception for 25 yards on defense.
Adams led the way for the Hornets amassing 264 all-purpose yards on the night. He led the Hornets' ground attack with 137 yards on 9 carries and caught 3 pass for 77 yards while scoring a career-best 5 touchdowns. He also returned 2 punts for 22 yards and returned 2 kickoffs for 28 yards.
"Conner was off last week, not on purpose, but he had a heck of a game and made a statement. He's definitely a weapon for us, we've been finding different ways to get him the ball, and with him not being on film last week, they probably overlooked him a little and Conner was able to capitalize on it."
Callahan rushed 7 times for 44 yards, junior Joe Brown had 21 yards on 3 attempts, freshman Will Gastrock carried 3 times for 9 yards, freshman Ryder Bowen had 15 yards on 5 carries, and senior Kanan Keck carried once for 5 yards. Poirier, who also kicked a perfect 7-for-7 extra points, caught 1 pass for 54 yards, senior Ryan Sweet caught one ball for 33 yards, and senior Dylan Abernathy hauled in a pass for 46 yards.
Junior Cameron Brought led the Hornets on the defensive side of the ball with 9 tackles. Sophomore Hayes Campbell and Sweet each made 8 tackles and had sacks.
Lister finished 15-for-25 for 180 yards with 2 touchdowns and an interception while Reid was held to just 29 yards on 15 carries. Karter Rude caught 5 passes from Lister for 85 yards.
Next up for Wellsboro (4-3, 3-2 NTL Large School Division) is the battle for the Morton F. Jones Trophy against rival North Penn-Mansfield. Last year the Panthers beat Wellsboro 17-14 to reclaim the trophy, but the Hornets lead the all-time series, 38-20.
"It doesn't matter what the records are," said Hildebrand of next week's match up. "Their quarterback (Karson Dominick) is a young kid but he's getting better every week. He's one that we have to watch out for. It is a rivalry and they have the trophy right now so I think our guys know that and they want it back. We need to have another good week of practice, keep our guys healthy, make good decisions, and get ready for next week."