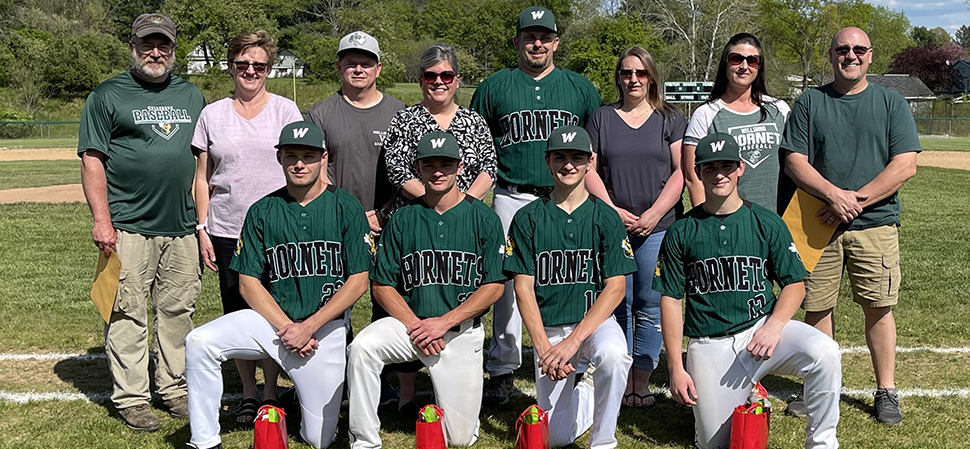 Hornets roll to 15-1 Senior Night win over Troy
By: Ed Weaver | NTL Sports | May 19, 2021 | Photo courtesy Ed Weaver
A 12-run 4th inning propelled the Wellsboro Varsity Baseball team to a 15-1 win over Troy on Senior Night on Tuesday, May 18.
"It's always good when you win on Senior Night," head coach Steve Adams said. "We're playing for stuff right now and all the seniors contributed tonight. Landon Goetsch had a big hit with the bases loaded, he put the bat on the ball and scored our third run and that was at a clutch time."
Prior to Goetsch's hit the Hornets were holding a 2-1 lead over the Trojans. Those runs came in the first as junior Darryn Callahan drove home sophomore Conner Adams after Adams tripled to lead off the game. Sophomore Cameron Brought later scored in the inning on an RBI single by senior Zach Rowland. Wellsboro's offense was stagnant prior to Goetsch's hit late in the third inning when he scored Brought for the 2nd time on the afternoon.
Then in the 4th Wellsboro exploded for 12 runs to finish the game. Said Adams, "we were hitting the ball right at them so we told them to not change their approach or do anything different. We said those hits would eventually fall and they did."
They definitely did.
The Hornets batted around in the 4th as Adams led off with a double, Callahan and Brought both reached on errors. A ground out by senior Kaeden Mann scored Callahan and a walk by junior Dylan Abernathy scored Brought to make it a 5-1 game. Freshman Caden Smith brought the next two runs home as he singled to center. A line drive by Adams scored Smith and Abernathy to make it a 9-1 game, then the flood gates opened as Brought tripled to clear the bases to make it 12-1. He then scored as the ball went out of play on the throw to make it 13-1.
Wellsboro's two final runs came as Mann singled to score junior Isaac Keane. Mann later scored as Abernathy reached on error to make it 15-1.
The Hornets had 9 hits on the afternoon led by a 2-for-3 performance by Brought and a 2-for-4 performance by Adams. Keane, Mann, Goetsch, Rowland, and Smith added the remaining hits. Rowland went the distance on the mound, scattering 5 hits with 3 walks and 10 strikeouts for his 4th win of the season.
The win improves the Hornets' record to 11-7 (10-4 NTL Large School Division) while keeping a half game lead over Athens. The Hornets are back in action later this afternoon at home against Williamson with a chance to clinch the Large School Division championship title with a win.

"Our preference is to win the league outright," concluded Adams. "We're going to come after it pretty hard."