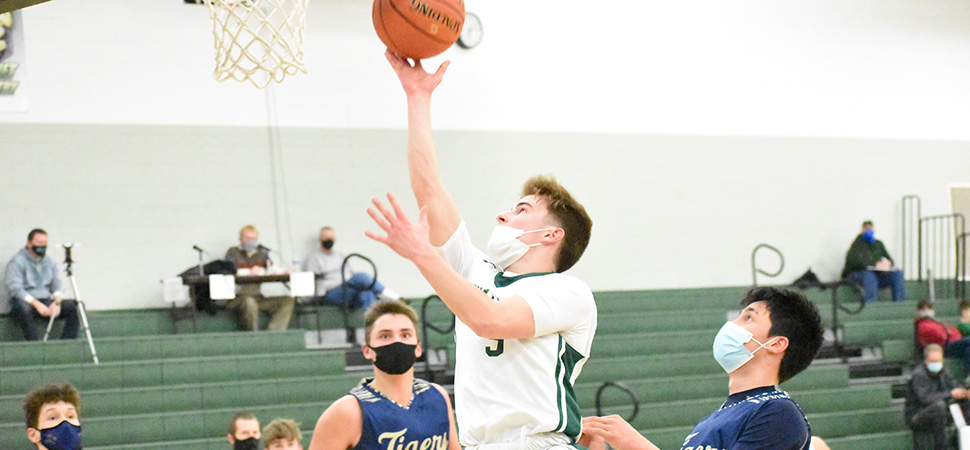 Hornets reclaim Peg Berguson Memorial Trophy
By: Ed Weaver | NTL Sports | February 11, 2021 | Photo courtesy Nick Coyle
For the third time in four years the Wellsboro Varsity Boys Basketball team won the Margaret (Peg) Berguson Memorial Trophy by beating rival North Penn-Mansfield on Wednesday, February 10.
"That was a great team win," head coach Steve Adams said. "Conner (Adams) made some clutch shots down the stretch and we played solid team defense. Our offensive execution was very good in the second half. It's always an honor to play in remembrance of Peg Burgeson. She was a great person and friend."
The entire first half was neck and neck. Both teams were tied at 12-all after the opening quarter, then the Hornets outscored the Tigers 15-14 in the second to lead 27-26.
The third, and mainly the fourth quarter, was when the Hornets opened up their lead. Wellsboro outscored Mansfield 13-10 in the third to open their lead up to 4 points, but then pulled away for the 68-56 win with a 28-point fourth quarter.

Adams led all scorers with a game (and career) high 24 points. Juniors Liam Manning and Darryn Callahan joined Adams in double figures with 14 and 12 points, respectively. Junior Isaac Keane and sophomore Peyton McClure added 8 points apiece and sophomore Cameron Brought chipped in 2 points.
Manning and Callahan also added 10 rebounds each and Keane made 5 assists.
Alex Stein led the Tigers with 21 points and Jacob Evans added 14.
In the JV game the Hornets cruised to a 51-23 win, improving to 9-0. Brought led the Hornets with 20 points while freshmen Hayes Campbell and Caden Smith added 8 points each.
The win is the Hornets' 8th in a row after dropping their opening game to Athens, and are also 8-1 in the NTL Large School Division. The team is back in action at home against Athens on Friday.