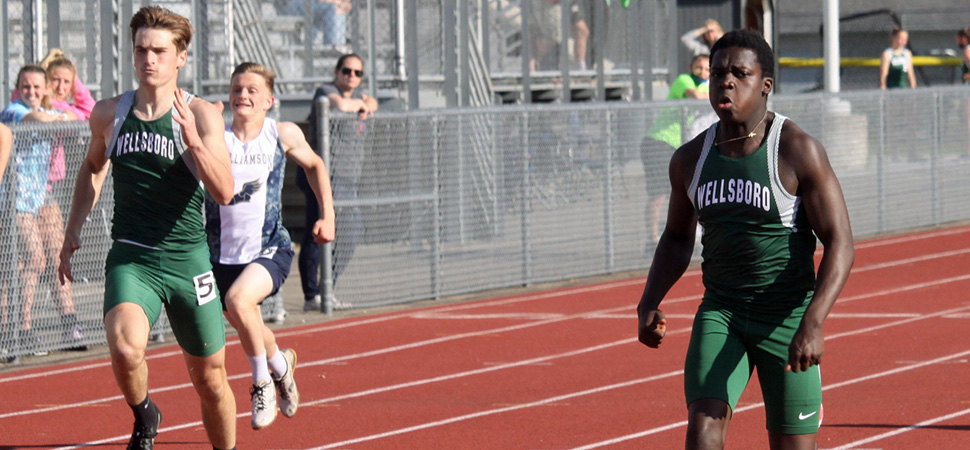 Hornets post strong times at NTL Coaches Invite
By: Ed Weaver | NTL Sports | May 15, 2021 | Photo courtesy Chris Manning
Members of the Wellsboro Boys Track team posted strong marks at the NTL Coaches Invite in Athens on Friday, May 14.
This year's meet was not a league championship meet, but an invite for one last attempt to post better marks for next week's PIAA District IV championships.
Senior Joseph Grab (11.5) and sophomore Jack Poirier (11.82) were 2nd and 3rd in the 100m and were 1st (23.61) and 2nd (24.12) in the 200m. Senior Aidan Fletcher (57.86) was 9th in the 400m, junior Owen Richardson (2:17.28) was 7th in the 800m and 5th in the 1600m (5:13.71), junior Gabe Guignard (12:14.37) was 8th in the 3200m, sophomore Sam Rudy was 1st in the 110m hurdles (17.57) and 3rd in the 300m hurdles (46.19), and the 4x100m relay team took 2nd (46.88).
Senior Anthony Romania (9-ft, 6) was 4th in the pole vault, Poirier (19-ft, 8.75) was 4th in the long jump, and sophomore Wyatt Gastrock (113-ft, 3.5) was 5th in the discus.
View complete results from the 2021 NTL Boys Coaches Invite.