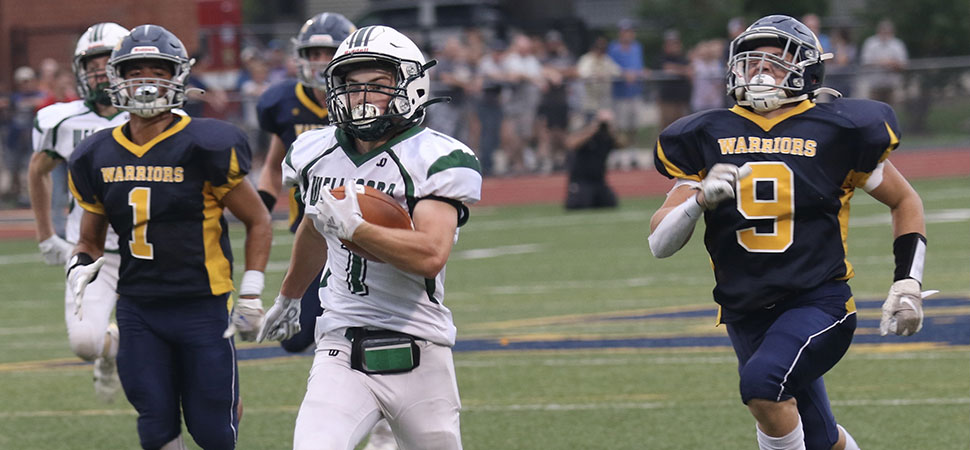 Hornets hang tough in loss to Montoursville
By: Ed Weaver | NTL Sports | August 29, 2021 | Photo courtesy Lance Larcom
A week ago when the Wellsboro Varsity Football team broke camp they had 24 kids on their entire roster. When they traveled to Montoursville Saturday for their 2021 season-opening game they faced off against a team of 68 Warriors.
"We're not looking for moral victories but I definitely felt we're a better football then when we started the game," Wellsboro head coach Matt Hildebrand said. "Just seeing what the kids can do, their fight, their effort. They never gave up. We had a lack of execution at times but I'm very happy with our kids, they're a good group and I'll take our 24 against anybody. That's our mentality this year."
Little did Hildebrand know that his young Hornets would hold a lead at the end of the 1st quarter.
After an opening three-and-out Wellsboro punted to the Warriors, but took advantage of a muffed punt and recovered at the Montoursville 42. On 3rd and 7 senior Isaac Keane connected with junior Joe Brown on a 14-yard gain to the 39. After an 11-yard run by senior Darryn Callahan moved the ball down to the 13. After Keane was dropped for a 5 yards loss and a holding call Keane found senior Ryan Sweet left wide open from 27 yards out. Senior Jack Poirier's extra point was blocked but Wellsboro led 6-0.
It didn't take Montoursville long to take the lead, in fact it took just over three minutes as Rocco Pulizzi rushed in from 11 yards out to put the Warriors up 7-6. Wellsboro, however answered right back in two plays. After a 5-yard loss Keane handed the ball off to junior Conner Adams on a jet sweep around the left end. Adams cut back towards the middle of the field, caught a block, and sprinted 85 yards to paydirt with 3:35 remaining on the clock to make it 14-7.
While the Hornets won the opening 12 minutes, Montoursville flipped the script and turned up the pressure in the 2nd quarter. They managed to tie the game up at 14 just six seconds in on a 32-yard, one-handed catch by Isaiah Fenner from Maddix Dalena. As the quarter continued the Warriors took advantage of field position. As Wellsboro was pushed back to their 1-yard line and forced to punt from the end zone a 19-yard return setup Pulizzi from 11 yards out with 10:01 remaining to make it 20-14. Then not even three minutes later Montoursville struck again on a 29-yard run by Pulizzi. Montoursville converted the ensuing two-point conversion to push the Warriors ahead by two scores, 28-14.
Wellsboro managed to keep the Warriors out of the end zone the rest of the half.
"We told the kids that our conditioning is just as important as the game plan," Hildebrand continued. "We've spent more time on it this year than we ever have because of the lack of guys but our kids are better for it. They signed up to play football, they don't want to be off the field because there's no one else to go in."
As the 3rd quarter started Montoursville made another successful drive conversion that culminated in a touchdown. The Warriors put together a patient eight-play drive that ended with a 1-yard plunge into the end zone by Brayden Brown with 7:51 to play. Just over two minutes later the Warriors struck again, for the final time on the evening, on a 5-yard run by Pulizzi to make it 42-14. The Hornets ended Montoursville's 35-point scoring spree just two plays later after Keane connected on his second touchdown pass of the night as he found senior Dylan Abernathy wide open. Abernathy turned the play into a 65-yard gain to cut the lead to 42-21.
Pulizzi led all rushers with 204 yards on 22 carries while Dalena finished 10-for-14 for 178 yards through the air.
Keane completed 11-of-20 passes on the night for 165 yards, Adams finished with 108 yards on 9 carries, and Sweet caught 3 passes for 70 yards. Abernathy had 2 receptions on the night for 66 yards. Sweet recorded 10 tackles from his defensive end position while junior Cameron Brought had 8 stops and Brown added six tackles. Sophomore Hayes Campbell forced the fumbled punt in the 1st quarter, which was recovered by Callahan.
Next up for the Hornets (0-1) is a date with South Williamsport (0-0). The Mounties, after resuming their week 0 game with Cowanesque Valley on Monday, come to town on Friday, September 3 for the Hornets home-opener.