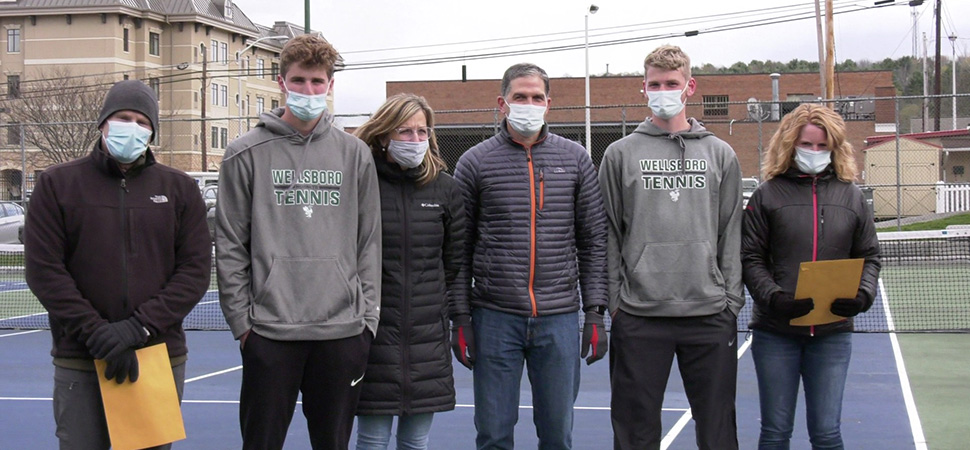 Hornets fall to Williamsport on Senior Night
By: Ed Weaver | NTL Sports | April 23, 2021 | Photo courtesy The Home Page Network
The Wellsboro Boys Tennis Team suffered their first loss of the 2021 season on Senior Night to Williamsport on Thursday, April 22.
Prior to the match senior Will Poirier and Zach Singer were honored by the Wellsboro Athletic Department.
"Will and Zach have both had a tremendous season on and off the court," head coach Andy Borzok said. "They are two of the most competitive singles players in the area, and they are simply an outstanding example of what it means to be a student-athlete. I can't imagine having better senior leadership on the team. I look forward to watching them finish out the rest of the regular season and compete at the district tournament."
Singles Results
Kyle Shuler def. Will Poirier 6-4, 6-0
Alexander Norris def. Zach Singer 6-3, 6-1
Zachariah Lake def. Joseph Doty 6-1, 6-2
Doubles Results
Evan Beiter/Owen Kaar def. Owen Richardson/Liam Manning 6-1, 6-2
Hemberth Pena-Vasquez/Abheet Sarker def. Gavin Gardner/Hayne Webster 6-1, 6-1
The loss drops the Hornets to 10-1. The team is back in action on Monday, April 26 at Packer Park as they host a doubleheader with Towanda.