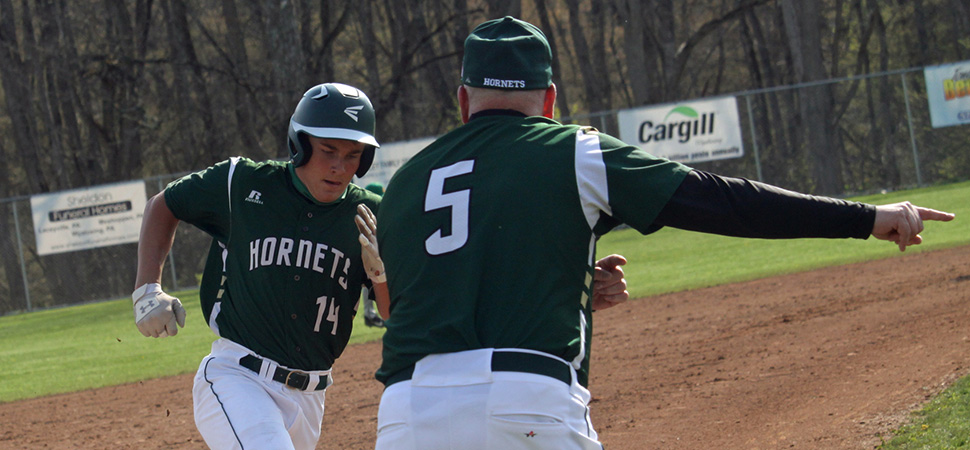 Hornets fall to Rams, 4-3
By: Ed Weaver | NTL Sports | April 21, 2021 | Photo courtesy Chris Manning
The Wellsboro Varsity Baseball team had a three-game win streak snapped in a 4-3 loss to Wyalusing on Tuesday, April 20.
"The boys battled hard but came up a little short," head coach Steve Adams said. "We have lots to learn from the game which will help us moving forward."
After three and a half scoreless innings Wyalusing got on the scoreboard with a run in the bottom of the 4th. The Hornets later tied up the game in the top of the 5th as freshman Caden Smith scored, after leading off with a walk, on a fly ball and reach on error by junior Darryn Callahan. The Rams added two more runs in the bottom of the 6th to make it 3-1. The Hornets again battled back to tie the game with a pair of runs in the top of the 7th.
Senior Brock Hamblin scored on a wild pitch with junior Isaac Keane at bat. Callahan, who singled earlier in the inning advanced to 2nd and later scored as Keane doubled to center to tie the game at 3-all.
Wyalusing broke the tie and won in the bottom of the 7th as they took advantage of a wild pitch that allowed Trenton Hugo to score.
Sophomore Cameron Brought went 3-for-3 at the plate to lead the Hornets. Callahan, Keane, junior Dylan Abernathy, and senior Kaeden Mann added the remaining hits on the afternoon. Senior Zach Rowland pitched 6 & 1/3 innings, allowing 4 runs (all earned) on 8 hits with a walk and 5 strikeouts. Callahan also saw time on the mound and allowed 1 hit.
The loss drops the Hornets to 5-3 overall and 5-2 in the NTL Large School Division standings. The team is back in action on Thursday, April 22 at South Williamsport.