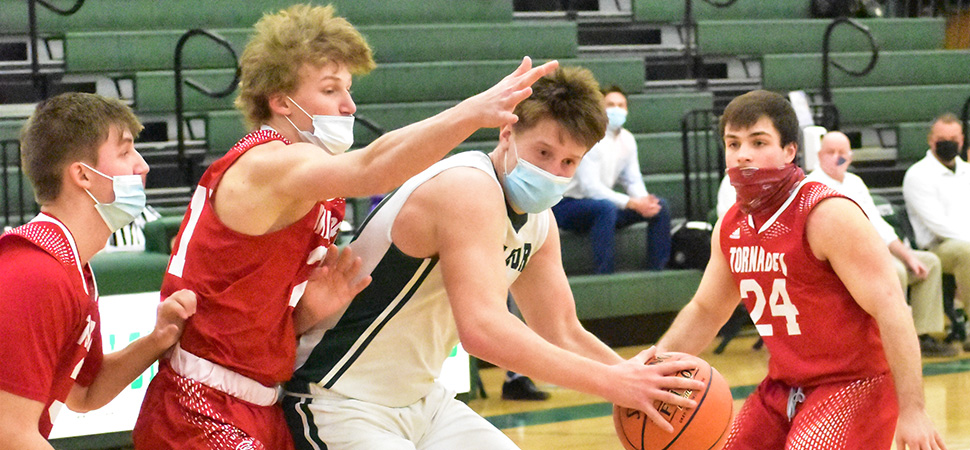 Hornets fall to Mount Carmel in D4 AAA Quarterfinals
By: Ed Weaver | NTL Sports | March 5, 2021 | Photo courtesy Nick Coyle
The Wellsboro Varsity Boys Basketball team's season came to a close in the PIAA District IV Class AAA Quarterfinals to Mount Carmel on Thursday, March 4.
Mount Carmel, the 5th seed, upset Wellsboro, the 4th seed, 54-45.
"We had a tough time knocking down some shots tonight," head coach Steve Adams said. "It was a good team effort. It's always tough when you come up a little short of where you want to be. I'm very proud of these guys and their efforts. We had success because of how hard these guys where willing push and work. They are very coachable group who want to keep being pushed and want to get better. It was a lot of fun to coach these guys this year and I am very proud of them. They win with humility and lose with dignity."
After being tied at the end of the opening quarter the Hornets found themselves trailing through the second quarter. A shot by junior Liam Manning cut the Red Tornadoes' lead to two, 28-26, at the half, but that's as close as Wellsboro would get the rest of the way.
Mount Carmel opened up a 38-30 lead after holding Wellsboro to just 4 points in the third quarter.
Manning was the only Hornet in double figures on the evening as he recorded a double-double of 18 points and 10 rebounds. Junior Isaac Keane scored 8 points, sophomore Conner Adams added 7, junior Darryn Callahan was held to 4 points, but pulled down 12 boards. Sophomore Peyton McClure had 3 points, junior Drew Manning and sophomore Cameron Brought chipped in two points each, and freshman Hayes Campbell scored a point.
Keane also recorded 8 assists and 4 steals.
Michael Balichick and Nate Long both scored 13 points apiece for Mount Carmel, who will face top-seeded Loyalsock (20-1) Monday evening.
The loss ends the Hornets' season at 15-4 but all 5 starters are back for next season.