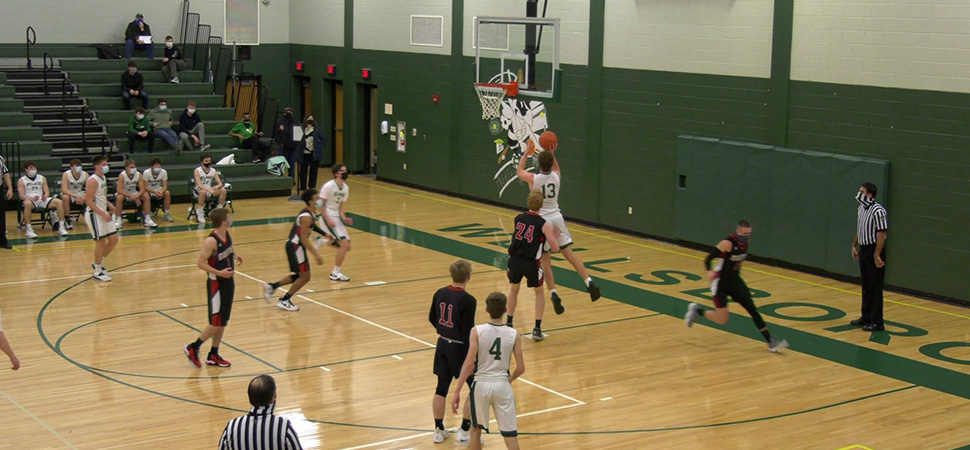 Hornets edge undefeated North Penn-Liberty, 47-45
By: Ed Weaver | NTL Sports | February 9, 2021 | Photo courtesy The Home Page Network
On Monday, February 8 the Wellsboro Boys Basketball team hosted undefeated North Penn-Liberty and handed them their first loss of the season by edging them, 47-45.
"That is a huge win. Liberty is a very good basketball team, they were undefeated for a reason," said Hornet head coach Steve Adams. "They have four seniors that start, they know each other well, they make very few mistakes, so we had to play an almost flawless game. We didn't play flawless, we made some mistakes, but Liberty is an outstanding team so we were happy to come away with a win tonight."
Wellsboro jumped out to an early 11-0 lead as they got shots to fall while the Mounties struggled to make a basket. The Mounties eventually got on the scoreboard early second quarter but Wellsboro still ran out to a 20-5 lead forcing the Mounties to call timeout. After that timeout Liberty's offense began to click and they cut into the Hornets' lead. Liberty got to within 20-11 but a basket by junior Drew Manning with 9 seconds remaining had Wellsboro in front 22-11 at halftime.
After the intermission the Mounties continued cutting into the Hornets lead. This time they got within eight points as Wellsboro led 33-25 after the third quarter. Once the fourth started, however, they cut deeper into Wellsboro's lead. After two quick fouls but junior Darryn Callahan, forcing him to sit with four personals, the Mounties got the score within 5 points, then down to three before the Hornets extended it back to 5 at the foul line.
With under a minute to play with Wellsboro up 5 after a pair of free throws by sophomore Conner Adams, Noah Spencer pulled the Mounties within three, 46-43, then fouled sophomore Cameron Brought to send him to the the foul line. Brought missed his first shot attempt but sunk the second to make it a four-point game (47-43). Spencer then furious advanced the ball back up the court and was able to dish it off to Brandon Thompson to cut it back to two with 6.8 seconds left to play. The Mounties fouled on the inbound sending junior Isaac Keane to the line. Keane missed both foul shots, giving the Mounties a final attempt to force overtime, but the shot came up short and gave the Hornets the win.
Junior Liam Manning led all scorers with 17 points and grabbed 14 rebounds for a double-double. Adams finished with 8 points, Keane had 7, sophomore Peyton McClure scored 6, Drew Manning and Callahan added 4 points apiece, and Brought chipped in with one.
Spencer led North Penn-Libety with 16 points, Thompson finished with 12, and Derek Litzelman scored 11. Thompson also added 9 rebounds and blocked 7 shots.
Wellsboro completed the sweep of the evening by winning the JV game 38-29 behind 21 points from Brought to improve to 8-0.
The loss drops the Mounties to 7-1 (7-1 NTL Small School Division), while the Hornets improve to 7-1 overall (7-1 NTL Large School Division). Both teams resume play Wednesday night, as the Hornets host rival North Penn-Mansfield while North Penn-Liberty travels to Sayre.