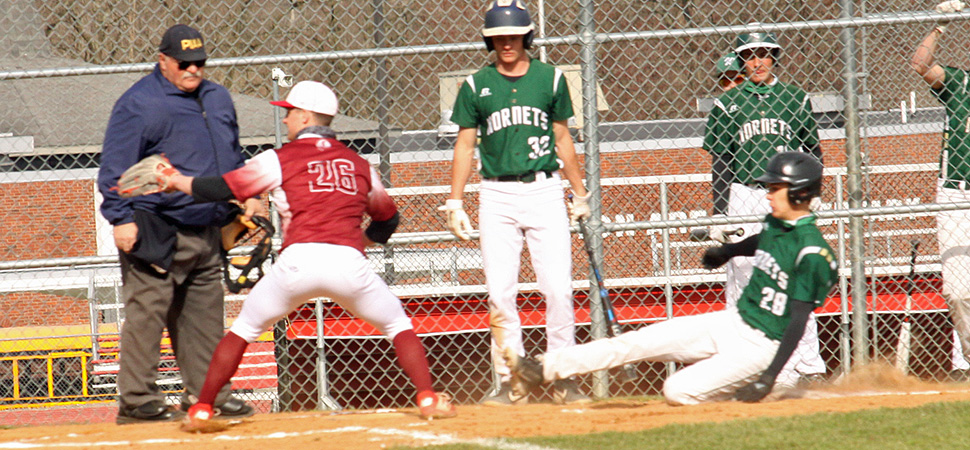 Hornets come up run short at Canton
By: Ed Weaver | NTL Sports | April 4, 2021 | Photo courtesy Chris Manning
In their first game of the season the Wellsboro Hornet Varsity Baseball team fell to Canton 7-6 on Saturday, April 3.
It was good to finally play," said head coach Steve Adams. "Getting on the field and competing will help us. We will improve the more we play."
The Hornet bats were alive early on as they scored 4 runs. Senior Kaeden Mann singled to get things started, then after stealing 2nd to move into scoring position, he scored on a double by junior Isaac Keane. In the next at bat sophomore Cameron Brought doubled to center to score Keane to make it a 2-0 game, then later scored along with senior Brock Hamblin on a single by junior Dylan Abernathy to push Wellsboro's lead to 4-0 after the top half of the inning.
Wellsboro added another run in the top of the 2nd to take a 5-0 lead as junior Brody Morral led off the inning with a base hit and then scored on a pass ball.
The Warriors scored 1 run in the bottom of the 2nd to cut the lead to 5-1, which Wellsboro would hold until the 5th inning. In the top of the 5th junior Darryn Callahan led off with a walk then later scored on a grounder by Keane to make it 6-1.
That's when the host Warriors took over, however.
Canton went on to score 6 runs over the course of the next two innings to take a 1-run lead over the Hornets, which they held on in the top of the 7th to score the win.
Abernathy led the Hornets at the plate, going 2-for-4 with 2 RBIs. Morral went 1-for-3 and Keane, Brought, and Mann all went 1-for-4. Callahan (3) and Hamblin (2) drew 5 combined walks on the afternoon. Hamblin started on the mound and pitched 4 and 1/3 innings, scattering 9 hits while walking and striking out 1 and giving up 4 runs (3 earned). Brought came on in relief and allowed 2 hits and a walk.
The Hornets (0-1, 0-1 NTL Large School Division) are back in action on the road at Troy on Tuesday, April 6.