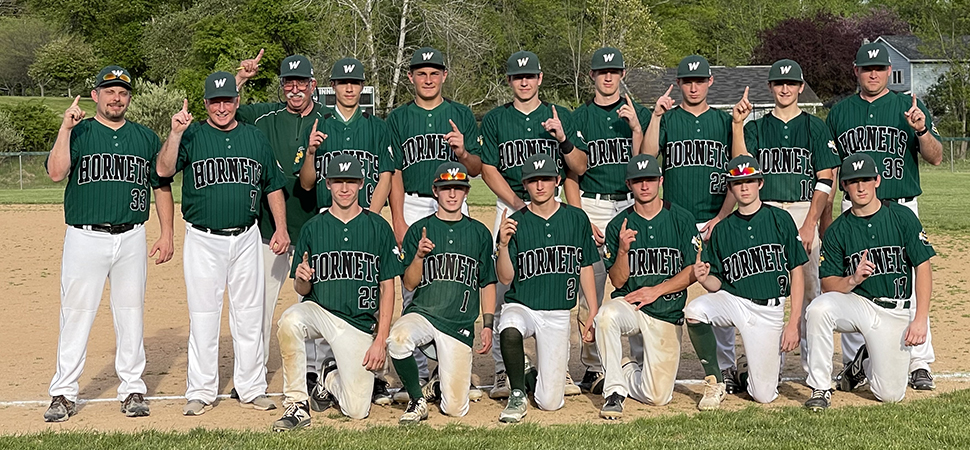 Hornets clinch NTL Large School Division title
By: Ed Weaver | NTL Sports | May 20, 2021 | Photo courtesy Ed Weaver
The Wellsboro Varsity Baseball team won the NTL Large School Division championship following a 12-2 win over Williamson on Wednesday, May 19.
The title is the Hornets' first since the 2017-18 season.
"We started this season with some goals. The first was to make the playoffs and the second was to win a league championship," head coach Steve Adams said. "We attained that tonight. We preached to the kids to make sure we didn't have any letdowns (after last night's win) and to enjoy the process. The boys did a great job of focusing through the entire game tonight. We had clutch hitting, good pitching, and and great defense. It was a total team win."
This one is also special for Adams since he has coached the majority of this group from Little League on up through Varsity.
"It's real special for me personally," Adams continued. "I told the boys that I think they're really great ball players but they're even better people. The coaches really enjoy spending time with them, there's times when we get on them and are hard on them but they know we care about them. They believe in us, we believe in them, and its really special to see them get the championship. I want to win as bad as the next guy, but I really wanted it for them. I said from now until the end of time they're NTL champs ad when they come back and see their names on the banner when they have kids they can say, 'Look what I did.'"
Wellsboro started out with 4 runs in the first inning. Sophomore Conner Adams scored the opening run on a Cameron Brought ground out then junior Darryn Callahan scored on an RBI single by junior Isaac Keane. Keane later scored on an error to make it 3-0, then senior Kaeden Mann crossed home plate on an RBI single by junior Dylan Abernathy.
The Hornets added two more runs in the 2nd as senior Brock Hamblin scored on a Callahan sac fly then Adams scored on a ground out by Brought to make it 6-0. They added 3 more an inning later to further increase the lead to 9-0. Following Hamblin's lead off double, junior Brody Morral scored (courtesy runner) on a line drive by Adams. Adams would advance to 2nd on the throw then later scored on an errant throw before Callahan hit an inside the park home run.
Williamson scored both of their runs in the top of the 4th to cut the lead to 9-2, but the Hornets added three more runs, one in the 4th and two in the 5th, to enact the 10-run rule. Caden Smith scored in the 4th on a passed ball after picking up a base hit with two outs, then Callahan and Keane scored the final two runs in the 5th on a single by Morral (Callahan) and a passed ball (Keane).
Keane led the Hornets at the plate as he went 3-for-3 with a walk, Callahan was 1-for-1, Hamblin went 2-for-3, Smith was 1-for-1, Morral and Adams both finished 1-for-2, Abernathy was 1-for-3, and Brought was 1-for-4. Hamblin pitched 4 & 2/3 innings, giving up 2 runs (1 earned) on 4 hits with 3 walks and 4 strikeouts. Keane came on for the final 1/3 of an inning.
The win improves the Hornets' record to 12-7 overall and 11-4 in the NTL Large School Division. It also bumped them from the #4 seed in the Class AAA playoffs to the #3 seed, guaranteeing them a 1st round home game once the official playoff brackets are released.