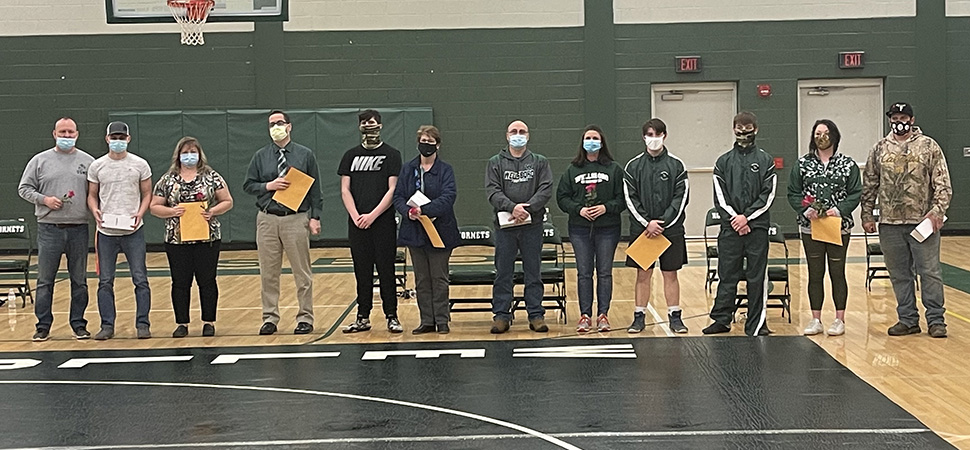 Hornet wrestlers fall to Jersey Shore on Senior Night
By: Ed Weaver | NTL Sports | March 11, 2021 | Photo courtesy Ed Weaver
In their only home match of the season the Wellsboro Varsity Wrestling team dropped a 48-0 match to Jersey Shore during Senior Night on Wednesday, March 10.
The Bulldogs won all 7 matches wrestled by pin fall. After the Bulldogs won via forfeit at 113 lbs., freshman Jordan Costley fell to Liam Goodrich in 1:06 at 138 lbs., senior Tylar Wright fell to Cade Vuocolo in 3:55 at 145 lbs., freshman Dillion Boyce fell to Gabe Andrus in 1:25 at 160 lbs., junior Coleman Brown fell to Tyler Bauder in 2:26 at 172 lbs., senior Landon Goetsch fell to Hayden Packer in 1:03 at 189 lbs., sophomore Joe Brown fell to Dyllian Ross in 5:28 at 215 lbs., and sophomore Wyatt Gastrock fell to Lee Springman in 1:47 at 285 lbs.
In the Middle School match Jersey Shore won 36-12. Will Gastrock won by forfeit at 145 lbs. and Jonathan Patterson won by forfeit at 210 lbs.