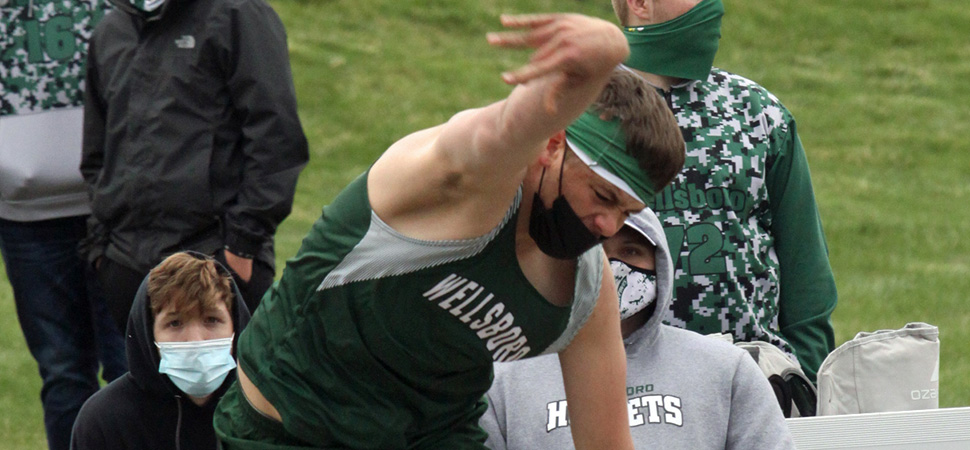 Hornet Track teams split with Troy
By: Ed Weaver | NTL Sports | April 17, 2021 | Photo courtesy Chris Manning
The Wellsboro Track & Field teams split their home meet with Troy on Friday, April 16.
The Hornets beat Troy 78-70 to improve to 2-1 while the Lady Hornets fell 96-49 to suffer their first loss of the season and fall to 2-1.
"I think the kids did well today despite the weather conditions," said girls head coach Elizabeth Hoover. "We are fighting some injuries, and the cold weather certainly didn't help. Hopefully, we can have a short break and get right back into it on Monday." Boys coach Jill Gastrock also added, "The boys throwers earned 26 of the 27 points in the shot discus and javelin. We didn't fill some running events, but still came out with a win. Kids endured a cold weather snap after three beautiful weather meets, and didn't lose focus. So proud of them!"
Senior Joseph Grab (11.57) and sophomore Jack Poirier (11.64) took the top 2 spots in the 100m. Poirier (23.94) and freshman Dillion Boyce (26.11) were 1st and 3rd in the 200m, junior Jordan Baldwin (1:08.80) was 4th in the 400m, junior Owen Richardson (2:19.35) and sophomore Spencer Wetzel (2:20.15) were 1st and 2nd in the 800m, Richardson (5:25.90) was 2nd in the 1600m, and junior Gabe Guignard (13:09.99) was 2nd in the 3200m.
Wellsboro won the 4x100m in 46.48.
Junior Justice Harlan (5-ft) was 2nd in the high jump followed by sophomore Aden Tom (4-ft, 10) in 3rd. Senior Anthony Romania (9-ft, 6) won the pole vault, Poirier (19-ft, 5) won the long jump, and sophomore Sam Rudy (38-ft, 4.5) was 2nd in the triple jump.
Wellsboro swept the shot put with Harlan (35-ft, 3), sophomore Wyatt Gastrock (33-ft, 10), and sophomore Joe Brown (32-ft, 8), swept the discus with Harlan (95-ft, 4), Gastrock (78-ft, 1), and junior Blaise Florio (76-ft, 7), and swept the javelin with Harlan (106-ft, 6), Gastrock (104-ft, 6), and freshman Noah Morey (92-ft, 7).
In the girls meet junior Hannah Morey (14.54) and sophomore Kate DeCamp (14.79) were 5th and 6th in the 100m, Morey (31.07) was 3rd in the 200m, freshmen Emily Richardson (1:15.27) and Maddy Callahan (1:20.93) were 3rd and 4th in the 400m, senior Aislinn Hoose (2:54.84) was 2nd in the 800m, and sophomore Ella Reifer (7:18.47) was 4th in the 1600m.
Senior Kathryn Burnett (18.83) was 1st in the 100m hurdles and 2nd in the 300m hurdles (58.93).
Wellsboro won the 4x400m relay in 5:47.63.
Junior Sara Abadi (4-ft, 4) won the high jump, freshman Hannah Nuss (4-ft, 6) was 3rd in the pole vault, senior Madelyn Rudy (12-ft, 8) was 4th in the long jump, and senior Alina Pietrzyk (26-ft, 9.75) was 2nd in the triple jump followed by freshman Olivia Chilson (25-ft, 6.25) in 4th.
Senior Kiyah Boyce (26-ft, 3) won the shot put and the discus (85-ft, 6). Junior Emma Coolidge was 3rd in the discus (68-ft, 7) and won the javelin (94-ft, 10).
Both teams are back in action on Tuesday, April 20 against Sayre.