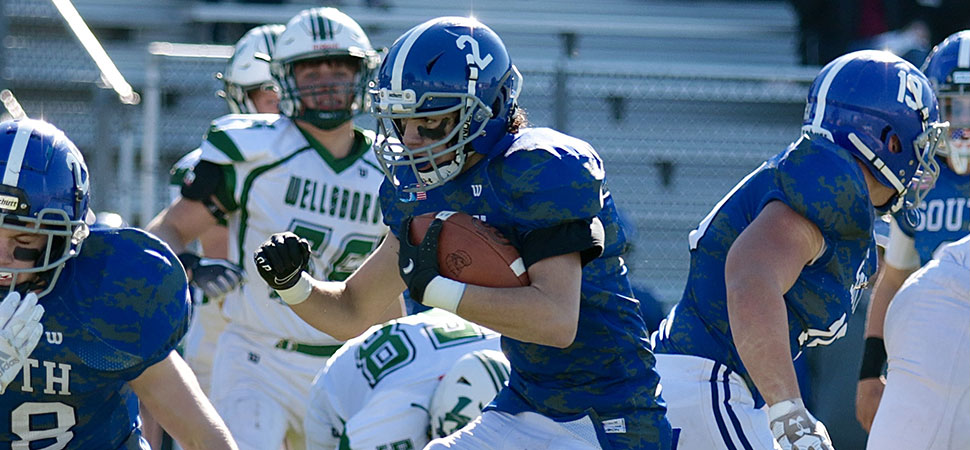 Hornet offense struggles in 36-7 loss to South Williamsport
By: Ed Weaver | NTL Sports | November 7, 2021 | Photo courtesy Lance Larcom/ntwsportsreport.com
The Wellsboro Varsity Football team's season came to an end at the hands of South Williamsport in the District IV Class AA playoffs on Saturday, November 6.
Unlike earlier this season when the Hornets hosted the Mounties when the hosted posted nearly 300 yards of total offense, this game the Hornets were held to 174.
Wellsboro's first two drives both ended in three and outs while South was able to capitalize on good field position and put up two quick scores. Their first was a one-yard run by Lane Lusk with 8:51 to play in the opening quarter and their second one came with 4:18 left on a 22-yard pass from Landon Lorson to Jake Casella to push the lead to 14-0.
Again the Mounties scored on their third possession as the second quarter started. With 8:37 left in the half Clayton Swarthout scored from 8 yards out to give the Mounties a 21-0 lead. The Mounties carried that lead through the rest of the quarter and into the third where they received the second half kickoff. They put together a 9-pay drive the ended in a 48-yard pass from Lorson to Grant Bachman to increase the lead to 28-0.
By this point the Hornets' offense finally had a successful drive. A 12-yard run by senior Darryn Callahan and a 14-yard run by senior Isaac Keane moved the ball into Mountie territory for the first time on the afternoon. A 31-yard run by Callahan moved the ball all the way down to the 9. Two plays later Keane found junior Spencer Wetzel open in the end zone from 6 yards away. Junior Jack Poirier's extra point split the uprights to bring the score to 28-7 with 4:02 remaining in the third quarter.
From this point on South Williamsport added one more touchdown, a 41-yard interception return by Swarthout, to take a commanding 36-7 lead over the Hornets.
Keane finished 6-for-18 for 63 yards and a touchdown passing and rushed 9 times for 9 yards on the afternoon. Callahan led Wellsboro's ground attack with 55 yards on 7 carries, junior Conner Adams carried the ball 8 times for 5 yards, junior Joe Brown had 30 yards on 6 carries, and freshman Ryder Bowen had 7 yards on 2 carries. Adams also caught two passes for 22 yards, Callahan and Brown each caught 16 yard passes, and Wetzel hauled in two passed for 9 yards and a score.
Defensively junior Cameron Brought 13 tackles and recovered a fumble, Brown had 10 total tackles, Callahan had 8 tackles and a sack, and Bowen made 9 tackles. Adams also had a forced fumble.
Lorson finished a perfect 5-for-5 for 88 yards and two touchdowns. Lusk had 101 yards on 21 carries and a touchdown and Swarthout carried the ball 10 times for 72 yards and a touchdown. Bachman led the South receiving corps with 2 catches for 60 yards.
The loss ends the Hornets' season with a 5-4 overall record (4-2 NTL Large School Division) and snaps a four game win streak. The loss also ends the season for 7 Hornet seniors. Keane finished his career 215-for-473 (.455) for 3,241 yards (1,025 this season), and 37 touchdowns. He also tied Jared Hurlbert's career interception record with 14. Dylan Abernathy caught 8 passes for 184 yards and 3 touchdowns in two years of football, Callahan rushed for 999 yards on 184 attempts for 9 touchdowns and caught 26 passes for 297 yards and a score. Justice Harlan recorded 19 tackles, Wayne Shirley made 54 tackles, Kanan Keck had 64 tackles and 177 yards rushing on 36 tries with 4 touchdowns, and Ryan Sweet caught 12 passes for 345 yards and 4 touchdowns. He also recorded 119 tackles, 2 interceptions, and 6 sacks.