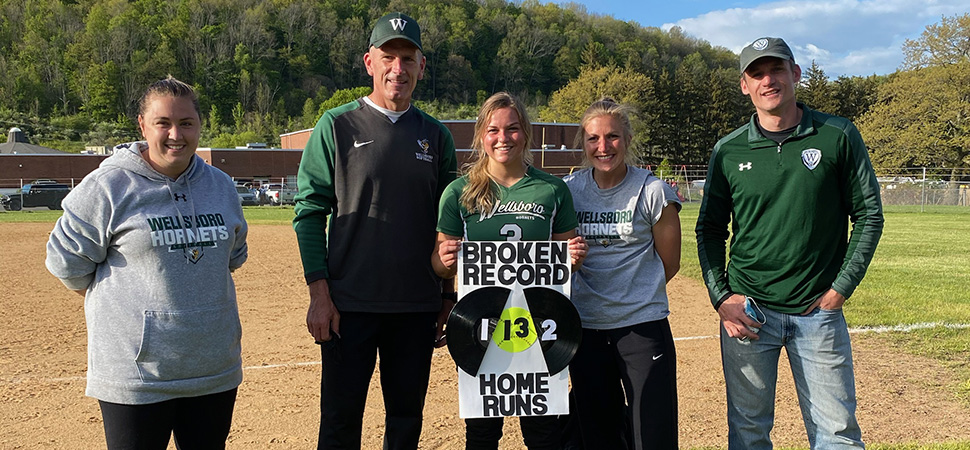 Clymer breaks Lady Hornets' home run record
By: Ed Weaver | NTL Sports | May 15, 2021 | Photo courtesy Cheryl Clymer
Senior Kerrah Clymer broke Wellsboro's career home run record with two-run shot in the 1st inning as the Wellsboro Varsity Softball team beat Canton 10-2 on Friday, May 14.
Coming into Friday's game Clymer was tied with Maggie Smith, who hit 12 homers between 2011-14. Clymer hit her 13th career homer and also her 7th of the season, breaking Smith's single-season record of 6.

"It was my goal this year to break that record and I have been tied for the record for a long time now so i was very excited to finally do it," she said. "I am very thankful to my teammates, coaches, and my family for all the support."
"It was a pleasure to see Kerrah achieve this milestone in her softball career," head coach Ron Brought said. "She is a talented player who works hard to reach this level of performance."
The Lady Hornets went to work early as Clymer scored her and sophomore Jordyn Abernathy. They also added another run by sophomore Madaline Bordas in the top of the 2nd to make a 3-0 lead. Canton rallied in the bottom of the 2nd for 2 runs, but it was all Lady Hornets the rest of the way.
"This game has been circled on our schedule since we went 10 innings against Canton at our place," Brought continued. "They are a quality team that is well coached so we knew we'd have to be at our best to beat them on their home field. Tonight we put the pressure on from the first batter and never let up. Our offense was outstanding tonight. We scored in 5 innings and we had runners on base in every inning but the 6th. Anytime you have 15 hits your going to be tough to beat. Not only was it an offensive game, we provided Kerrah an outstanding defensive effort in support of her great outing. We are consistently excelling in all three phases of the game."
Junior Emma Coolidge scored in the 3rd after drawing a walk then later scored on an RBI single by Bordas. Then in the 4th Abernathy crossed home plate for the second time on an RBI single by senior Jena Boyce. Then in the 7th the Lady Hornets added 5 more runs to close out the game. Bordas, senior Jessa Lohr, sophomore Rylie Boyce, junior Abbye Cavanaugh, and Clymer all scored.
Bordas went a perfect 4-for-4 at the plate with an RBI. Clymer finished the afternoon 2-for-5 with a home run, double, and 3 RBIs. Abernathy was 3-for-5, Rylie Boyce and Lohr were each 2-for-4, and Jena Boyce was 2-for-5. Clymer pitched a complete game, allowing 2 runs (both earned) on 5 hits with 3 walks and 3 strikeouts.
The win improves the Lady Hornets' record to 14-4 (10-4 NTL Large School Division). The team is back in action on the road on Monday, May 17 to finish their rain-shortened game with Cowanesque Valley.