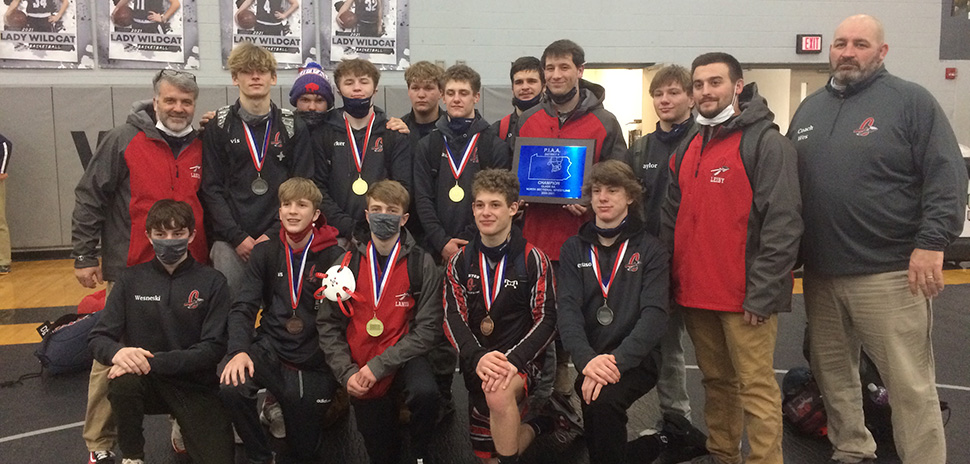 Canton wins North Section Wrestling crown
By: Chris Manning | NTL Sports | February 14, 2021
ATHENS - Canton crowned three champions as they claimed the North Section Wrestling Title Saturday.
The Warriors finished with 174 points, well ahead of second place Jersey Shore (150).
"It was good wrestling," said Canton coach Lyle Wesneski. "We have a young team, they showed a lot of heart and grit."
Canton had five finalists in all with Hayden Ward (138), Isaac Landis (120) and Riley Parker (160) all coming away with titles. Michael Davis (152) and Bailey Ferguson (132) both took second.
Also moving on to districts are Cohen Landis (106), Derek Atherton-Ely (189) and Hudson Ward (145).
Ward won 13-3 over Athens' Kaden Setzer in the final. He took a 7-0 lead in the second period after two takedowns and two sets of back points. Setzer would cut it to 8-3 but another takedown and set of back points put the match away for Ward.
Landis defeated Athens' Mason Vanderpool by fall in 3:05. Vanderpool led 2-0 but a Landis reversal at the first period buzzer tied things up.
In the second Landis got a takedown then scored the fall for the win.
Parker had a fall, technical fall and major decision in his three matches, beating Jersey Shore's Tyler Bauder 11-3 in the final.
He built a 6-0 lead after the first two periods. In the third Parker was called for back to back stalls that cut it to 6-2, but after an unnecessary roughness call on Bauder Parker got back to back takedowns for the win.
Davis lost to Wyalusing's Nick Woodruff 13-4 in their final. Davis led 2-0 with an early takedown but was then out scored 13-2 the rest of the way.
Ferguson fell 8-3 to Jersey Shore's Liam Goodrich in their final. Goodrich led 7-1 after the first period, but Ferguson cut it to 7-3 with a reversal in the second.
In the final period Goodrich got an escape for the 8-3 final.
All eight wrestlers will now compete at the District IV Championships next Saturday down at Williamsport.