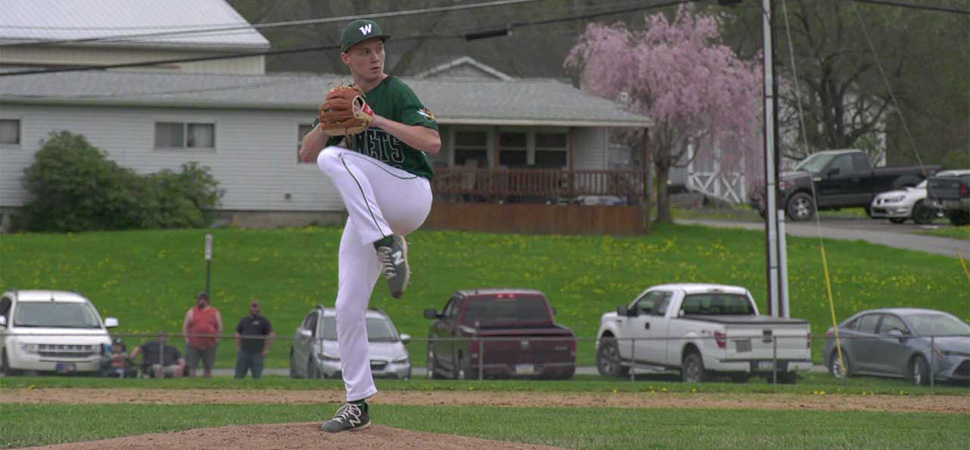 Callahan's 3-run HR leads Hornets past Mansfield
By: Ed Weaver | NTL Sports | May 4, 2021 | Photo courtesy The Home Page Network
A 3-run home run by junior Darryn Callahan sparked a late-inning rally by the Wellsboro Varsity Baseball team to sweep the season series with North Penn-Mansfield on Monday, May 3.
"Any time you beat Mansfield twice is great," head coach Steve Adams said. "Coach (Rob) Davis is doing a great job with Mansfield and the kids. The win the series really helps us in league play. They swept Wyalusing and for us to sweep them if it comes down to a tie you get that edge. The league is far from over yet, we still have a lot of tough games ahead but this was a very big win for us tonight."
Trailing 3-0 heading into the bottom of the 5th Callahan ripped a shot, on a 3-2 count, to deep right-center that cleared the fence to score senior Brock Hamblin (single) and sophomore Conner Adams (walk) to knot the game at 3-all.
Wellsboro then took the lead for good an inning later.
Still riding the momentum from the inning before, and taking advantage of a pitching change, seniors Kaeden Mann and Zach Rowland started out with a pair of walks and junior Dylan Abernathy beat out an infield single to load the bases. Two at bats later freshman Caden Smith singled to score both Mann and Rowland to put the Hornets up 5-2. Abernathy almost scored on the same play to make it a 3-run game but was tagged out at the plate.
"Darryn is a pure hitter and that lefty-swing is beautiful," Adams continued. "I thought they would pitch around him but on his second swing he got just under the pitch and wiffed, and that gave them some confidence to come back at him. I knew that if he made contact that it was going. The kid has big-time power and that was a great hit."
Before the 5th the Hornets struggled at the plate, hitting 9 fly-ball outs. Adams spoke with the team mid-5th to help ignite their spark.
"We've been a little anxious and we've been dropping our shoulders a little bit. That inning we got our hands on top of the ball and that helped us. We have to fundamentally do that better yet. We're working on it. We got contribution when we needed it from our 7-8-9 batters. Dylan coming in and getting a base hit was huge, the hit by Darryn was great, then you have Caden Smith as a freshman. We gave him a suicide-squeeze that he fouled off and on the next pitch he hits a base hit and we score two runs. That was a clutch play for him to come through there."
The Tigers went down in order in the top of the 7th, securing the Hornets' 7th win of the season.
The Hornets only managed 5 hits on the afternoon as Callahan, Smith, sophomore Cameron Brought, Hamblin, and Abernathy having hits.
Rowland pitched 6 innings, scattering 4 hits and allowing 3 runs (1 earned) to go along with 5 strikeouts. Hamblin came on in relief in the final inning and did not allow a hit.
The win improves the Hornets' record to 7-5 (7-3 NTL Large School Division). The team is back in action at Athens on Wednesday.