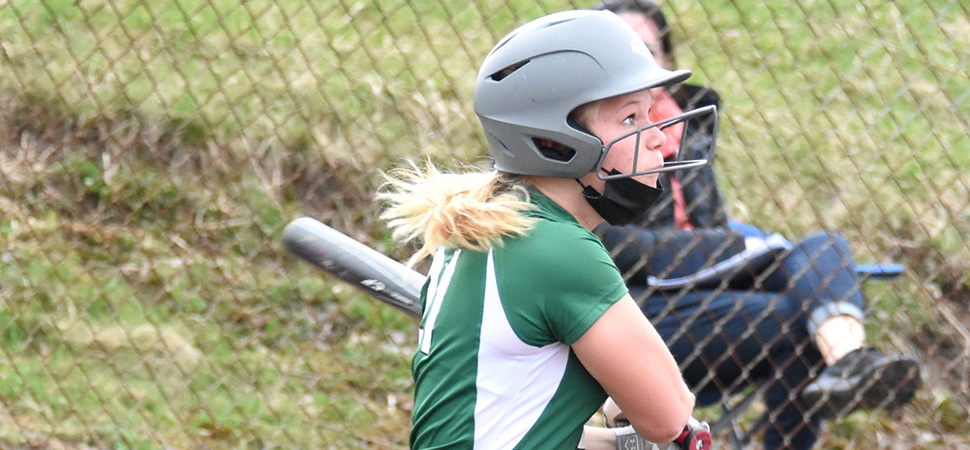 Abernathy walk-off single lifts Lady Hornets over Athens
By: Ed Weaver | NTL Sports | April 14, 2021 | Photo courtesy Brian Fees
Tied at 4-all with 2 outs in the bottom of the 7th, sophomore Jordyn Abernathy drove in sophomore Rylie Boyce to give the Wellsboro Varsity Softball team a 5-4 win over Athens on Tuesday, April 13.
The Lady Hornets fell behind as the visiting Lady Wildcats hit a home run in the in the game's first at-bat to lead 1-0. They held the 1-0 lead until the bottom of the 4th when senior Kerrah Clymer scored to tie the game. The game remained tied until the top of the 6th when Athens put three runs on the scoreboard to lead 4-1. Wellsboro answered back in the bottom half of the inning as Abernathy walked then scored one at-bat later as Clymer drilled a two-run shot over the fence to cut the lead to 4-3.
Wellsboro's defense kept the Lady Wilcats from scoring in the top of the 7th, setting up the stage for their comeback. Sophomore Madaline Bordas led off the inning with a double and moved to third on a wild pitch. She later scored as Boyce hit into a fielder's choice. A sac bunt by junior Abbye Cavanaugh advanced Boyce to score on Abernathy's base hit.
Wellsboro had just 4 hits on the afternoon, one each by Clymer, Bordas, Abernathy, and junior Emma Coolidge (a double). Clymer pitched a complete game giving up 4 runs on 6 hits with a walk and 3 strikeouts.
"This was a game in which we executed in all aspects of the game," said head coach Ron Brought. "We didn't hit as well as we'd like, but our hits were timely. We ran the bases aggressively, we had a great outing from Kerrah in the circle and our defense was lock down all night. Our defense was the difference in the game. Great win for our girls against an undefeated Athens team."
The win improves the Hornets' record to 3-1 (3-1 NTL Large School Division). The team is back in action later this afternoon against Towanda.