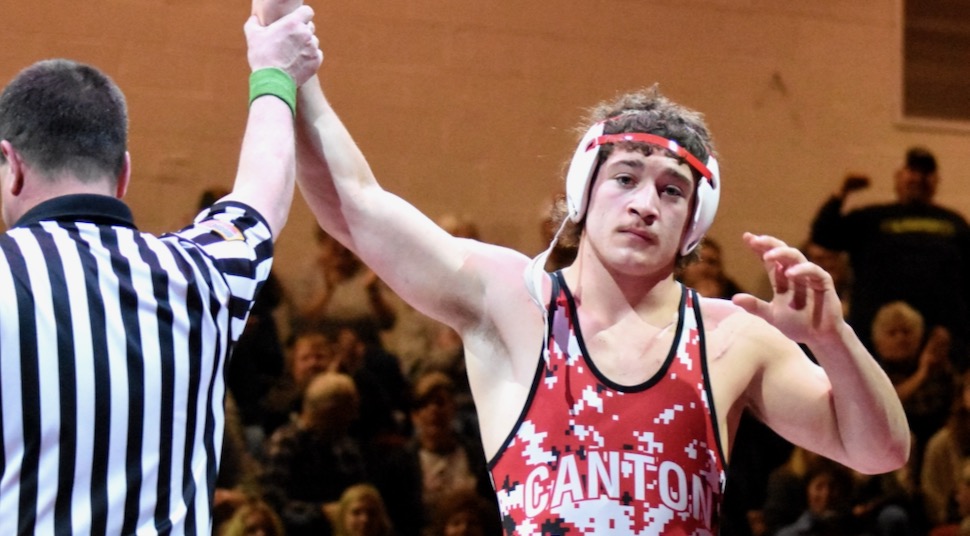 Warriors top Lewisburg to advance to District quarters
By: Ed Weaver | NTL Sports | January 30, 2020
The Canton Wrestling team scored a 51-20 win over Lewisburg in the opening round of the District IV team duals on Wednesday, January 29.
The Warriors advance to Milton High School this Saturday to take on Benton at 11:00 a.m.
Canton trailed after both team split the opening two matches. Hayden Ward won a 15-1 major decision at 132 while the Warriors forfeited at 138. After that the Warriors dominated as they won 8 of the next 9 matches. Riley Parker won a 6-4 decision over Derek Shedleski at 145, and Brenen Taylor won a 9-5 decision at 160.
Timmy Ward (170) and Chance Deljohnovan (182) scored back-to-back forfeits before Garrett Storch picked up a 16-second pin-fall at 195. Dereck Atherton-Ely won a 16-0 tech fall at 220, Trevor Williams pinned Adam Gilligbauer in 1:16 at 285, and Isaac Landis pinned Jace Gessner in 5:05. Lewisburg won the following two matches at 113 and 120. Miah Lehman then closed out the night and the match for Canton by scoring a 45-second pin against Collin Adams.
Canton improves their record to 10-1 on the season.