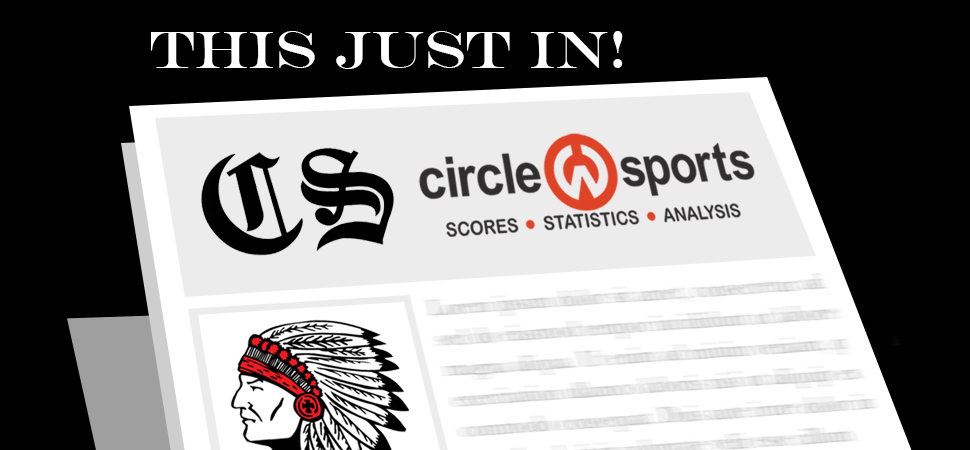 Warriors run past Wildcats, 33-9
By: Ed Weaver | NTL Sports | October 13, 2020
After a three week hiatus the Canton Warriors scored a 33-9 win over the Athens Wildcats in the rain at Alumni Stadium on Monday, October 12.
While the Wildcats struck first and scored the game's opening points on a 30-yard field goal by Shayne Reid midway through the opening quarter. However, after that point the Canton ground attack took over.
On the legs of Riley Parker and Hayden Ward the Warriors moved down to the Athens 21 where Cooper Kitchen connected with Joel Schoonover for the score, putting the Warriors in front, 7-3, with 1:56 remaining in the 1st quarter.
"Athens came out strong and they were pretty tough that first series or so against the run and I think we wore their big guys down a little bit and we just just kept after them," said Canton head coach Tyler Sechrist. "I was happy with our two backs and the way the line came back and answered. They (Ward and Parker) are both sophomores and do a lot of things well. They're quick and physical for their size and they run hard. They had a great night."

Canton took back over and resumed their ground attack after forcing the Wildcats to punt. Starting at their 20, Parker broke off a 20-yard run out to the 40. From there steady runs moved the Warriors down to the Wildcat 15 then Kitchen threw his second touchdown pass of the night, this one to Ben Knapp, to make it a 10-point, 13-3 lead.
Canton then capitalized off an Athens miscue and fumble at the 24. Parker later scored from 4 yards out, pushing the lead to 20-3 with 7:38 remaining in the half.
The Warriors would capitalize off another Wildcat miscue as the half expired. Athens had the ball inside the Canton 10. With time running out the Wildcats coughed up the ball and Weston Bellows was there to scoop it up and returned it 83 yards. At the half the Warriors led 26-3.
"That was a huge change of events and you don't usually see that," continued Sechrist. "He tossed it back trying to make something happen, I thought they were going to score there, and we ended up 'scooping and scoring.' That was a big part of the game."
Athens would add another touchdown midway through the third quarter on a 13-yard pass from Mason Lister to JJ Babcock before the Warriors answered late in the fourth on a 47-yard run by Parker, sealing the 33-9 win for the Warriors.
Parker led the Warrior ground game with 176 yards and two touchdowns on 19 carries. Ward added 50 yards on seven carries, and Kitchen chipped in with 25 yards on six carries. Kitchen also completed 6-of-8 passes for 46 yards and two scores. Knapp led Canton with three receptions for 25 yards and one touchdown, and Schoonover had two catches for 25 yards and one touchdown.
Reid led the Wildcats with 78 rushing yards on 17 carries, and seven receptions for 50 yards.
Lister completed 15 of 29 pass attempts for 121 yards and one touchdown. Rude had four catches for 40 yards, while sophomore Caleb Nichols had two grabs for 25 yards. Babcock had his 13-yard touchdown catch, and Ben Pernaselli had one reception for seven yards.
Both teams are back in action this Saturday, October 17. Canton (2-0, 2-0 NTL Large School Division) hosts Muncy in a rematch of last year's District IV Class A championship game while Athens (3-1, 3-1 NTL Large School Division) hosts South Williamsport.
Stats provided by ValleySportsReport.net.