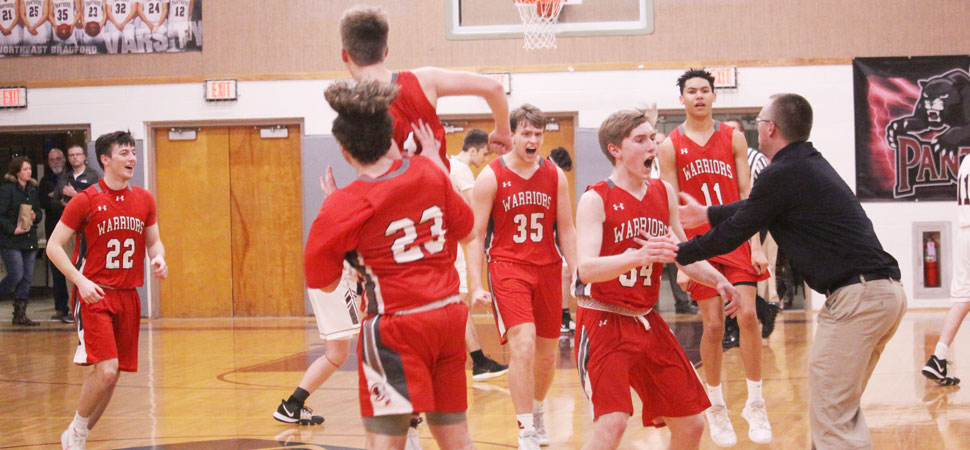 Warriors pull over overtime upset agaisnt NEB
By: Ed Weaver | NTL Sports | February 20, 2020
The Canton Boys Basketball team pulled off a 1st round District IV Class AA overtime upset of Northeast Bradford on the road on Wednesday, February 19.
The Warriors trailed by 10, 40-30, after the 3rd quarter was finished. As the 4th started the Warriors held the Panthers to one field goal and just 4 total points, while scoring 10 to tie the game up at 44-all at the end of regulation. Canton again held NEB to just one field goal in the overtime period, a three-pointer by Clayton Conner, while outscoring the Panthers 8-3 and cap a 22-7 run for the come-from-behind 52-47 win.
Three Warriors scored in double figures on the night led by Zach Rentzel with 14, Isaiah Niemczyk with 13, and Cooper Kitchen with 12. Ben Knapp finished with 6 points, Brendan Matthews added 5 points, and Caiden Williams rouned out the scoring with 2 points.
The win improves the Warriors' record to 13-11 overall and advances them to the Class AA semi-finals. Canton will face off against NTL foe Wyalusing at Troy High School on Saturday, February 22. Tip-off is scheduled for 5:00 p.m.