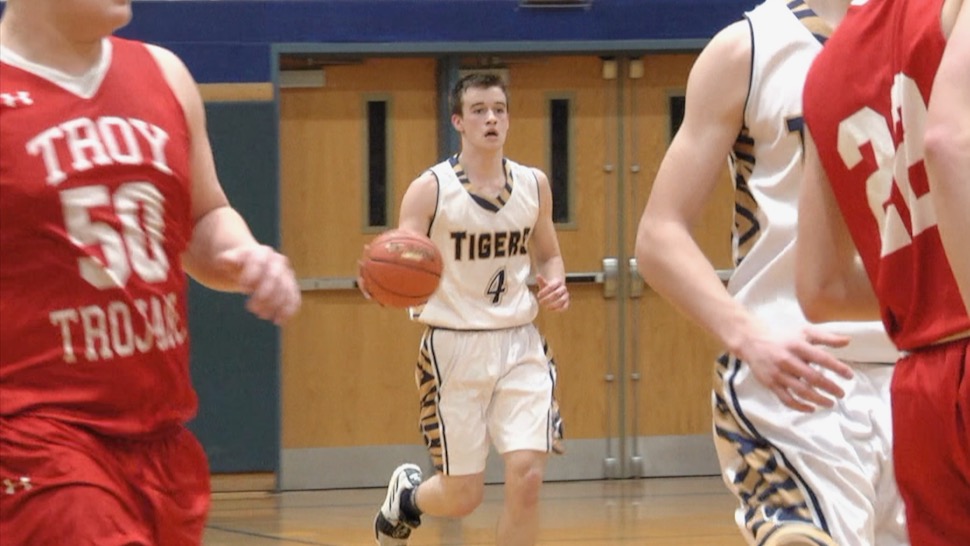 Tigers fall short against Troy
By: Ed Weaver | NTL Sports | January 26, 2020 | Photo courtesy The Home Page Network
A 22-7 3rd quarter gave the North Penn-Mansfield Boys Basketball team a lead heading into the 4th quarter but it wasn't enough as Troy edged the Tigers, 52-47 on Saturday, January 25.
"We have to stop starting out in a hole," said Tiger head coach Kipper Burleigh. "We got down 12 when we had Wellsboro here earlier, we played Athens maybe 18 or 19, then down 11 tonight. We have to stop doing that. I thought we played hard in the first half but couldn't make a shot, we couldn't make a shot look close, and we struggled keeping them off the glass."
The Trojans built a 9-2 lead midway through the 1st quarter as the Tigers struggled from the field until a three from Jacob Evans late in the quarter cut the Trojans' lead to 5 at 11-6. Troy would lead 14-8 after the opening quarter, then built their lead up to 26-15 at halftime as the Tigers continued to struggle from the field.
The 3rd quarter, however, was a completely different story. Similar to Tuesday's rivalry game with Wellsboro, the Tigers put together a 20-plus point quarter to get back in the game, and unlike Tuesday, they held the lead at the end of the quarter. Mansfield scored 5 quick points in just under a minute and 20 seconds to make it a 6-point game and force Troy to burn a timeout.

The Tigers went on an 8-0 run to start the quarter and eventually cut Troy's lead to 27-26 on a Jacob Evans' 3-pointer. Mansfield tied the game at 28-all with 3:45 to go then took and build their lead to 32-28 with two minutes remaining. At the end of the quarter the Tigers held a 37-33 lead.

Troy worked their way back in the game, and would eventually retake the lead at 39-37 with 5:30 remaining. Both teams continued trading the lead late until the Tigers retook the lead on an Evans' 3-pointer with 1:37 to go. On the next trip down the court Troy would tie the game on a foul shot, then would retake the lead at 49-47 with 16.2 seconds to go on a Ty Barrett layup.

"Hats off to Troy, they played hard and got a big win on the road," added Burleigh.

Tokarz and Evans both finished with 15 points to lead the Tigers while Curtis Craig had 5 points, Brody Burleigh and Alex Stein had 4 points each, Sam Lawrence added 3 points, and Dominick Garverick rounded out the scoring with a point.

Barrett led all scorers with 21 points, Mason Imbt had 10 points and 18 rebounds, and Ethan VanNoy scored 13 points.

The loss drops the Tigers to 9-8 (6-5 NTL Large School Division). The team is back in action on Tuesday, January 28 on the road in Wyalusing.