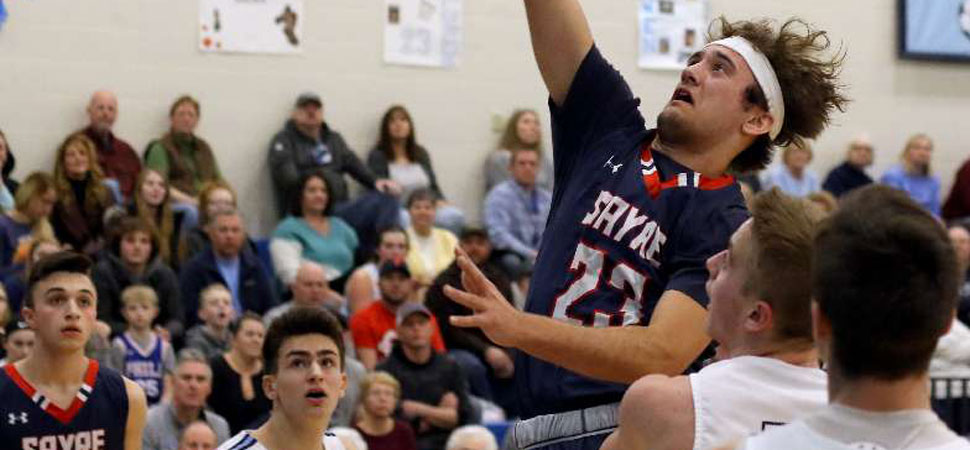 Sayre upends Millville, 48-38, in Class AA quarterfinals
By: Tim Birney | NTL Sports | February 20, 2020 | Photo courtesy Tim Birney
MILLVILLE — Sixth-seed Sayre answered a 16-2 Millville run with a 10-0 run of its own to fend off a second-half rally, and record its first postseason win since 2011 — a 48-38 upset of third-seed Millville — here Wednesday night in the quarterfinals of the District 4, Class AA boys basketball playoffs.
"It's been a while," said first-year Sayre coach Devin Shaw in reference to the program's last postseason victory.
"One of our goals this summer was just to make Districts," he said. "I told the guys we could compete at the District level if they wanted to buy into what we were asking of them, and they've done that.
"This is a great win for this team," added Shaw. "No one on this team has had a district win, it's something they can take forward with them, especially our seniors."
The Redskins, now 12-11, will square off with second-seed Bloomsburg, a 79-35 winner over East Juniata, Saturday at 3 p.m. at Montoursville High School in the Class AA semifinals. Sayre is now guaranteed of at least two more games as the top three Class AA teams will advance to States.
Senior Corbin Brown said the Redskins talked about effort before the game.
"We were coming in as the sixth seed, and I felt like no one thought we had a chance to win.
"We knew if we played as hard as we could, and played our best, they weren't better than us and we could win," said Brown. "And, that's what we did.
"This win means a lot," added Brown, "We're one game closer to States, and hopefully we can make a run at a District title."
Led by Brown, the Redskins pounded the offensive boards in the first quarter, and took advantage of poor Millville shooting to build a 15-4 lead after the first eight minutes.
Brown scored nine points in the first quarter, including three buckets on putbacks on the offensive glass, while Millville made just 2 of 14 shots from field.
"Corbin had a great game against Montgomery, and I think it carried over to tonight," said Shaw. "He's starting to take the reigns of the team a little bit. He is becoming the force inside that we need him to be, and that's just going to help us down the road.
"Teams are going to have to start doubling-down on him, and he can kick it out to some of our 3-point shooters for some open shots," Shaw added.
Junior Zach Moore drained a 3-pointer early in the second quarter to give the Redskins their biggest lead of the first half, at 18-5, with 6:55 remaining.
The Quakers trimmed the deficit to 20-10 on an old-fashioned three-point play by Landon Evans with 4:03 remaining in the second quarter, but moments later Sayre junior Matt Lane was fouled behind the 3-point arc, and calmly drained all three free throws to make it 23-10.
Millville used a 5-0 spurt to trim the deficit to 23-15, but sophomore Dom Fabbri knocked down a 12-foot baseline jumper to give the Redskins a 25-15 lead at the half. The Quakers could have cut further into the deficit, but made just 3 of 7 free-throw attempts in that stretch.
An Evans free throw trimmed the Sayre lead to 25-16 with 7:03 remaining in the third quarter, but Moore canned a pair of 3-pointers, sandwiched around a 3-pointer by Lane, in a 9-0 run that gave the Redskins a 34-16 lead with 4:32 remaining.
Eli Klinger and Will Holdren scored four points apiece in an 8-2 spurt to end the quarter, pulling the Quakers to within 12, at 36-24, entering the final eight minutes.
Klinger and Holdren kept it going early in the fourth quarter, scoring four points apiece again in an 8-0 run to open the fourth quarter that cut the deficit to 36-32, forcing Shaw to call a time out.
"We weren't running our press break right," said Shaw. "I got a time out, and we talked about it.
"We fought through some adversity there," noted Shaw. "The kids didn't keep their heads down, like they were doing at the beginning of the season.
"We weren't getting fouls called," continued Shaw. "I told the guys to play through it. I told them (Millville) was going to be physical, and we needed to be stronger with the basketball (because) we weren't going to get the calls.
"Once they knocked it down to five, we made some plays to build it back to 10 or 12, then we did a lot better job taking care of the basketball at the end of the game," added Shaw.
After the time out, the Redskins scored 10 straight points to take a 46-32 lead with 3:16 remaining in the contest.
Junior Connor Young and Lane each scored buckets on offensive rebounds, and Brown scored four points in the low-post as the Redskins took control.
"I tried to post up, and work the for the ball as best as I could, and (my teammates) did a good job of getting me the ball," said Brown.
The Quakers scored back-to-back buckets to trim the Sayre lead to 46-36 with 2:11 left in the game, but the Redskins, thanks to just three team fouls against the Quakers, were able to milk the clock down to 36.6 seconds before Moore was fouled and put on the line, where he sank both free throws to make it 48-36.
Moore led Sayre with 18 points, including four 3-pointers, while Brown had 15 points and 12 rebounds, Lane added eight points, and Fabbri chipped in with four points.
Holdren led Millville with 13 points, and Klinger added 12.
Bloomsburg beat Sayre 74-46 on Feb. 8.
"We have a ton of film on Bloomsburg, and we played them toward the end of the season," said Shaw.
"Now, we have to game-plan against what they did to us, and we have to fix some of the mistakes we made, and capitalize on their mistakes.
"We just need to stay positive, and play our game," added Shaw.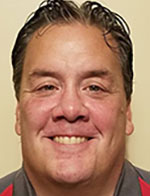 Tim Birney is the founder / owner of River Road Media Group. He was born and raised in the Valley, graduating from Waverly High School in 1984.
Birney earned an Associate's Degree in Journalism from SUNY Morrisville in 1986 and a Bachelor's Degree in Journalism / Public Relations from Utica College of Syracuse University in 1988. He began his newspaper career at The Daily Review in Towanda in 1989, before moving on to The Evening Times in 1995. He spent more than 10 years at the Times, the last four as Managing Editor.
River Road Media Group includes five sites in "The Sports Reports" family that cover 24 school districts in five counties: Valley Sports Report (launched Aug. 10, 2009), Tioga County (NY) Sports Report (Aug. 13, 2018), and Northern Tier Sports Report (Aug. 31, 2020); Northern Tier West Sports Report (March 15, 2021) Southern Tier Sports Report (Aug. 16, 2021).